Texas Operation Improves Product Mix Using Category Management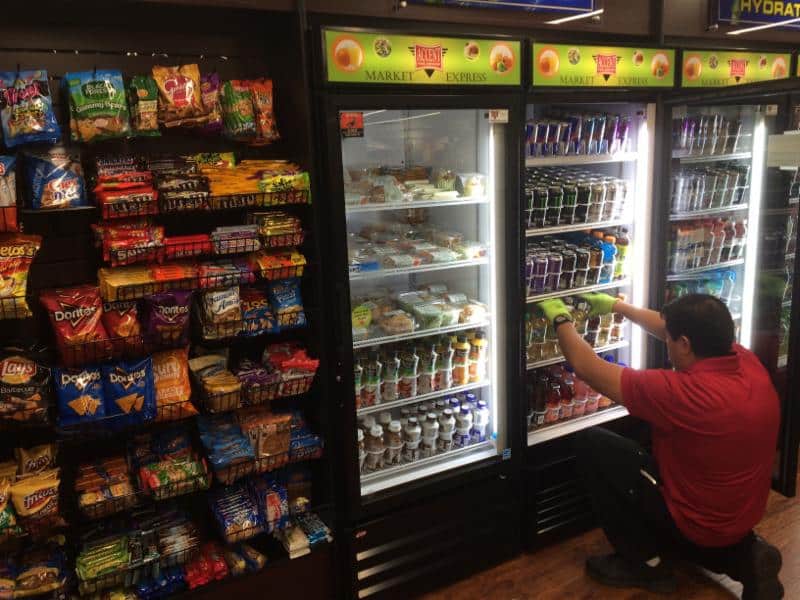 Category management, a retail concept in which the range of products purchased by an organization or sold by a retailer is broken down into groups of similar or related products, has taken on new importance in refreshment services with the rise of micro markets, which carry more stock keeping units (SKUs) than vending machines.
Accent Food Services, a refreshment services provider based in Pflugerville, Texas, has overhauled its category management process in the last two years for both micro markets and vending machines. As a result, the company claims its product mix more closely meets the needs of its customers.
Amanda Sulc, director of category insights and strategy at the company, defines category management as looking at products or SKUs within a particular category and trying to determine the best assortment of products within a set amount of space in order to maximize revenue.
Accent Food Services has managed its categories for a long time, but it has made significant improvements in the process over the last year.
"We really have started to use data much more than we used to," Sulc told Vending Technology News. "It definitely was not as detailed and regimented as it is now."
"There was really no process behind it," she said. "Now we have an entire process where we put together a playbook, which details our innovation plays for that particular period. We present these webinars to our sales and key account teams, as well as our operations, who filter it through the organization down to the driver. We review the products that we're removing and introducing, as well as the rationale behind it."
A Two-Year Journey

Sulc and the commercial strategy team strengthened its focus on category management after she came on board in her current role two years ago. There is another director overseeing coffee services and provisioning.
There is a team of merchandisers who perform "deep dives" to ensure the company is providing the right products to the accounts individually, taking into consideration the account's demographics.
"Category management is an area in which you can enhance your knowledge by digging deep into the data. Since it will always be evolving, there's always something new to discover," said Sulc, who earned an MBA with a focus on consumer behavior and marketing strategy before joining Accent Food Services.
"But it's more of a mind set on how to review the data and determine what the best needs are for that consumer," she said. She said it is important to "think outside the box" to meet consumer needs.
"We know that consumer needs are continuously changing," she said.
A New Method Emerges

The company was using category management on an account-by-account basis when Sulc joined the company.
Where the company evaluated the product mix on an individual account basis during the merchandiser's "deep dive," it is now looking at it with respect to the demographic segments.
The company has merchandisers that visit the accounts daily and remove five products and replace them with five other products.
"That's all we were doing with it," she said. "When we would bring in products, we would just bring them in at any time, ad hoc, and say, 'here are the products you can place in your market.'"
Now there are snack planograms for each demographic segment: white collar, blue collar, healthy and Hispanic. Beverage planograms by demographic are in the works.
"Now we're looking at the demographics within each region and really determining what the best product assortment is for those particular segments of people," she said.
The planograms are revised three times per year, and they can differ based on the size of the account.
The planograms can also vary based on the account's product requests. An account might request 20 percent healthy items or 50 percent healthy items.
"We have a myriad of options to provide our customers depending on what they're looking for," she said.
The company's goal is to have planograms specific to its different branches and for different account sizes in addition to the demographic based planograms.
More Data Available

The company uses both its internal data as well as data from outside sources in selecting products.
"Our vendors are extremely collaborative in providing us the data that they've gathered, whether it be from the manufacturing side or from the brokers," she said.
In addition to vending sales data, Accent Food Services also looks at data from convenience stores, supermarkets and drug stores.
"We can get a lot of innovation outside of our channel," Sulc said.
"What are our top opportunities and what are we missing?"
"We attract the same consumer as any other away-from-home immediate consumption channels, and so we see the alignment in using their data to find new opportunities in our space."
The company uses a dashboard within Microsoft Power BI that displays data from all the different data sources. Sulc and her team apply the different filters for the categories they've defined to analyze the data.
The data allows Sulc and her team to look at the top sellers in all the different product categories.
"Based on its share of revenue within that category, how much space should we allot that product within our markets or vending?" she said. She not only looks at the top revenue producer, but what the growth potential is for a particular product.
"It's very important to look at what product has growth year over year because something could be the top product in its category, but it could have a decline year over year," she said.
She said the system has delivered higher sales.
Improving Customer Satisfaction

She pointed out that the improvement is not only quantitative, but qualitative. Both consumers and clients are better satisfied with the product selections.
"The feedback that we have gotten from them on a quarterly basis has been phenomenal," she said. "I think it really gives us a competitive advantage."
The system has resulted in carrying more products, but the team also guides which products should be removed from the markets and vending accounts in order to achieve optimal SKU rationalization.
"It enables us to meet the needs of our consumers," she said. "At the end of the day, we are meeting our goal."
The company is currently developing a "product calculator" to determine if a product meets a minimum score based on a set of questions.
There are many factors that influence a product's value, both quantitatively and qualitatively, Sulc said. But the company also has to consider the operational execution. The process allows them to evaluate the product in an unbiased manner.
---

Vending Technology News | More News | Vending Newsletter sign up | Questions? Contact us | email press release |
Also see: Software Companies | Technology Companies | Micro Markets | Cashless Vending | Distributors | Classified Ads | Home |
VENDING YELLOW PAGES DIRECTORIES:
Call us at 1-800-956-8363 to POST YOUR COMPANY, or QUESTIONS?