'Smart' Glasses Make Crickler Vending's Route Drivers More Efficient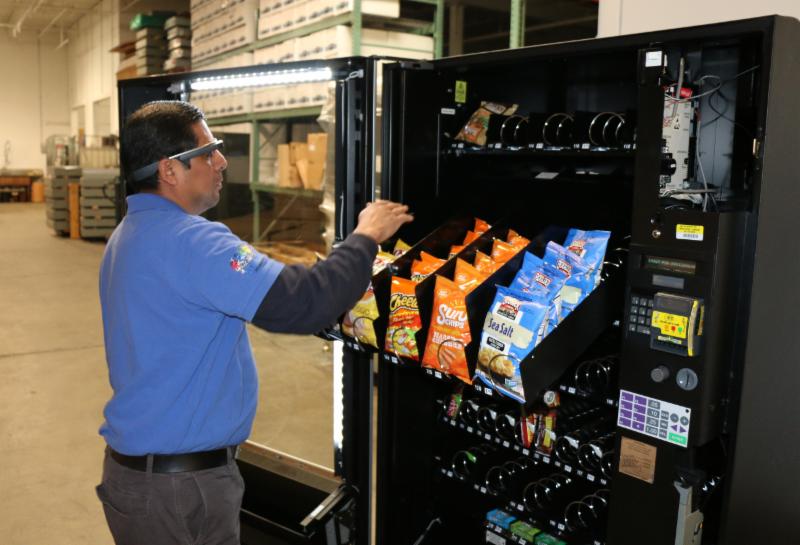 Crickler Vending Co., based in Rochester, N.Y., was able to reduce driver work time while improving inventory accuracy using the RoutSight wearable technology solution from Wizzan Mobility.
The vending company reached a point when it realized they needed to replace their route handhelds because they were getting old. They realized they could replace the handhelds, switch to tablets or introduce the wearable technology solution from Wizzan Mobility.
"For Crickler, this was an investment that would have been made with or without the glasses as we needed to update our current method and move to new handhelds, tablets or glasses," said Mark Houseknecht, vice president of Crickler Vending Company. "After thoroughly reviewing all options from a cost and efficiency standpoint, we found that the glasses were ahead of the game. They allowed for more efficiency by being hand-free rather than still needing to hold a device to service a machine, and they were less cost prohibitive than some app solutions."
Running on Google Glass Enterprise Edition, RouteSight sends visual and audio messages to the driver wearing the glasses, instructing the driver which products to take from the truck. The system then provides the driver with a heads‐up display which allows them to view product information while they load the machines. The driver can enter inventory counts and spoils using voice commands while their hands are free to load the machines.
The glasses display visual notices about par levels, allowing the driver to make corrections as they are servicing the machine. It also notifies the driver of special requests and allows them to record audio memos.
The RouteSight software integrated with Crickler' Vendmax vending management system.
So far, Crickler Vending has converted three of its 38 route drivers to the wearable technology. Houseknecht said the company is on schedule to have 12 routes converted in October and all routes by February of 2019.
The drivers that have switched to the glasses were able to save roughly half an hour per day after two weeks, Houseknecht said.
"We found that inventories in the machines improved immensely and was quantified by the reduction in (inventory) 'bring back' on those routes and the increase in the fill percent in the machines," he said.
"Filling the machines accurately allowed us to recognize a 26 percent reduction in sellouts and we recognized a 25.13 percent reduction in bring backs."
Introducing new technology requires "buy in" from the drivers, Houseknecht said, and the process takes some getting used to. This did not present a major problem for Crickler Vending. The first couple of machines the drivers serviced using the glasses were the most difficult, but the learning curve took no more than two days.
"Our drivers have been able to go out on their own with the glasses after two days of training," Houseknecht said. "We are finding that they continue to improve with them for about two weeks, but are able to operate on their own very quickly. As with any change, there is a delicate way to introduce it. There was initial push back due to the new technology and it being such a difference, but there was quick buy-in after about two days."
The glasses have an upfront cost comparable to a new handheld, he said, and they do require a monthly fee.
"The monthly fee is easily justified with the improvement in machine inventories and time savings by the drivers," he said. "Therefore, we are seeing immediate return as we are dealing with fewer handheld hardware issues and improvement in data collection, bring back reduction and drivers time savings."
For more information visit www.wizzanmobility.com/
---

Vending Technology News | More News | Vending Newsletter sign up | Questions? Contact us | email press release
Also see: Software Companies | Technology Companies | Micro Markets | Cashless Vending | Distributors | Classified Ads | Routes for sale | Vending Companies USA | Home |
VENDING YELLOW PAGES DIRECTORIES:
Call us at 1-800-956-8363, POST YOUR COMPANY