Small Operator Saves Accounts, Boosts Profits Using Mobile-App Based Micro Market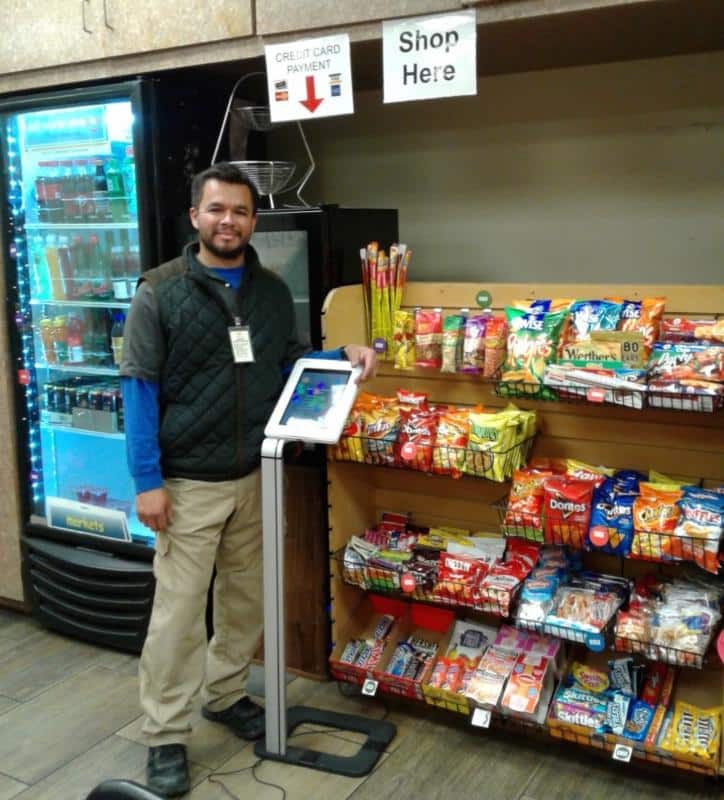 Chris Rodriguez, owner of Del Norte Snacks in El Paso, Texas, has found a mobile app based ordering system a more profitable way to service his accounts than vending machines, and at the same time offer more product variety.
After operating his small, owner operated business for 18 years, Rodriguez has replaced the vending banks in some of his larger accountswith the SnackDot mobile app based ordering system provided by Turner Logic, SnackDot for Micro Markets
The software allows operators to provide micro markets using a mobile app and a mounted tablet rather than a large kiosk. Prior to coming across the SnackDot system a year ago, Rodriguez did not think his accounts, which have between 100 and 200 employees, were large enough to justify the cost of standard micro market systems.
"They were just too out of reach," Rodriguez said. "If you're not moving a lot, it's just not cost effective to be investing so much in those micro markets that require a lot of equipment. The payment kiosks are pretty costly."
But by not offering micro markets, Rodriguez found himself at a disadvantage since competitors were offering them.
"I was just praying to God to send me something a little more cost effective," he said. "We were being competitively pushed out."
Several of his accounts said they wanted a micro market and threatened to switch service providers. Some of these had as few as 70 people, which Rodriguez did not believe would be profitable if he installed a standard micro market.
"They wanted a micro market, and if not, they were going to go look somewhere else for a micro market," he said.
Searching for micro market options on the Internet, he came across Turner Logic, profiled in the Oct.15, 2016 edition of Vending Technology News.
"I was just Googling small micro markets," Rodriguez said.
"It saved the day," he said for the SnackDot system. Rodriguez was able to save seven accounts with SnackDot.
"I didn't have much of a choice on these," he said.
He replaced the vending machines with wooden shelves that he bought from a cabinet maker. The shelves ranged from 24 inches to 48 inches wide, depending on the space needs of the accounts. He also placed an iPad tablet running the SnackDot kiosk app.
Employees can check out their purchases on the iPad if they don't have their smart phones.
The customers preload their accounts using their credit cards. The accounts are then debited for the purchases.
When making a purchase from the shelves, the customer enters the purchase information on their smart phone or on the iPad. A screen shows the prices corresponding to five colors displayed in the market.
Each shelf has a different colored dot designating the price for the products on that shelf: red, green, blue, purple and orange.
Rodriguez sets the prices based on what he negotiates with the account. His snack prices range from 85 cents to $1.25, while beverages go from 60 cents to $1.50.
He also offers cold food in some of his micro markets.
"When you're a returning customer, you put in your email, and then you put in our password," Rodriguez said. "It's very simple."
Rodriguez pays SnackDot a $30 monthly subscription fee for every market. He supplies the mounted iPads himself.
If the customer enters the wrong purchase information, they get charged the wrong amount.
There is also pilferage. Rodriguez said there is a 5 percent theft rate, which he considers manageable. But considering that sales almost double when he replaces the vending machines with a micro market, "that 5 percent is almost negligible," he said.
The micro markets have as many as 60 snack offerings compared to 40 in the vending machines.
"There is just a lot of product you can't put in the vending machine," he said, such as a Ramen soup.
The micro market also offers higher priced products than he had in the vending machines.
The increased variety has proven to be a strong selling point with customers. "I didn't see any increase in sales until I started changing the products," he said.
In addition, there is no need to invest in machines, no machine maintenance cost, no cash handling costs and less service cost in comparison to vending machines.
"The service time has dropped dramatically," he said.
He wants to replace all of his vending accounts with the micro market, but some accounts are hesitant.
Some account managers believe the micro market will encourage theft.
"You do have your people who just don't want to take any chances," he said. "We have a couple that say, 'I don't want to take any chances. I don't want anybody losing their job over a Snickers.'"
Rodriguez noted that theft occurs with vending machines as well.
For more information visit: SnackDot for Micro Markets.
---

Vending Technology News | More News | Vending Newsletter sign up | Questions? Contact us | email press release |
Also see: Software Companies | Technology Companies | Micro Markets | Cashless Vending | Distributors | Classified Ads | Home |
VENDING YELLOW PAGES DIRECTORIES:
Call us at 1-800-956-8363 to POST YOUR COMPANY, or QUESTIONS?