PepsiCo Introduces Bubly Vending Machines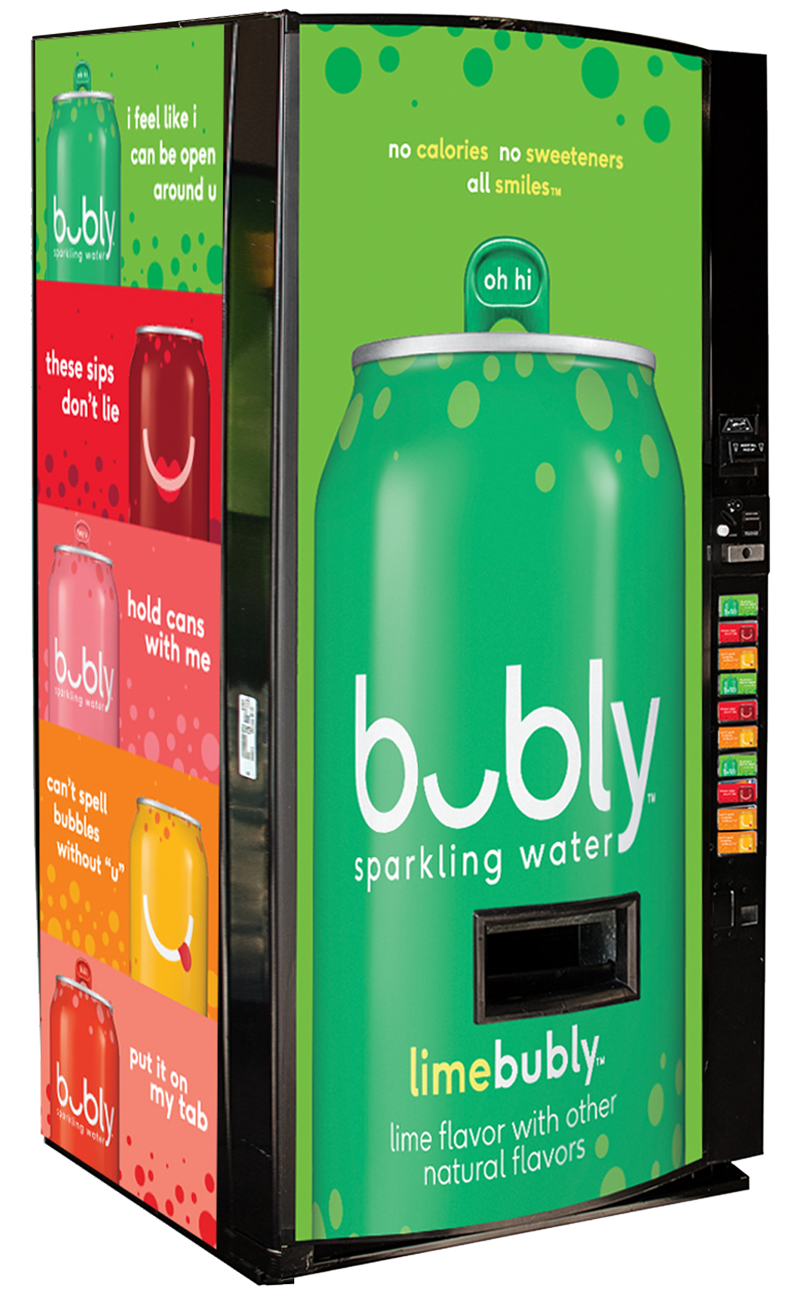 PepsiCo Foodservice has introduced a Bubly branded machine to the vending trade using a standard Dixie Narco 501E. The machines are currently on loan from PepsiCo, Bill Moxey, director of PepsiCo Foodservice, told Vending Technology News.
Vending operators interested in placing the machine can contact their Pepsi bottler, Moxey said. The bottlers also provide the Bubly product, a sparkling water.
Bubly vending machines have been installed at 150 high schools in the U.S., according to Bloomberg News, while the company is also pitching its Aquafina water station for colleges that allows students to customize flavors.
Bubly was released earlier this year as part of PepsiCo's pivot to drinks with less sugar, according to Bloomberg News. The company put its marketing muscle behind the brand in a bid to compete with LaCroix, which is produced by National Beverage Corp.
Pepsi has installed Bubly fountain units throughout California and Nevada, according to Bloomberg News.
The fountain units have been installed at San Diego State, the University of California-Berkley and other schools, along with offices, convenience stores and hotels.
Some of the company's new machines, like a custom Aquafina station, will also help it track preferences and perhaps help develop its next set of flavors, according to Anne Fink, who runs the foodservice unit at the company.
"The insight allows us to learn a lot about consumer preferences," Fink said.
The sparkling-water market has doubled over the past five years and is estimated to hit $2.6 billion this year,
according to Euromonitor.
For more information visit http://www.pepsico.com/
---

Vending Technology News | More News | Vending Newsletter sign up | Questions? Contact us | email press release
Also see: Software Companies | Technology Companies | Micro Markets | Cashless Vending | Distributors | Classified Ads | Routes for sale | Vending Companies USA | Home |
VENDING YELLOW PAGES DIRECTORIES:
Call us at 1-800-956-8363, POST YOUR COMPANY