PepsiCo Inc. Introduces Hydration Machine As Part Of Beyond The Bottle Campaign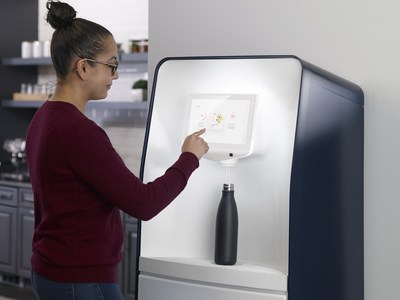 PepsiCo Inc., as part of its Beyond the Bottle initiative to reduce single serve plastic bottles, has introduced a self-serve hydration system, allowing customers to stay hydrated while digitally tracking their hydration. The hydration system follows the company's recent acquisition of SodaStream.
The hydration platform includes a dispenser, a smartphone app and a QR code sticker for reusable bottles. The system lets customers set their own daily hydration goals and automatically tracks their progress. It also saves customers' product preference for future use, and tracks their environmental impact by counting the number of plastic bottles saved.
All water is nano-filtered.
"This new hydration platform is an exciting step in the PepsiCo Beyond the Bottle innovation pipeline," said Jim Andrew, executive vice president of SodaStream and Beyond the Bottle Ventures.
The system offers customizable zero-calorie flavor, carbonation and temperature options. Customers can create their preferred drink and save their favorites in the mobile app, which is available for iOS and Android devices.
"This new platform addresses a number of trends we're seeing resonate with consumers, including increasing concern for the environment and preference for refillable bottles, as well as desire for choice and personalization whenever possible," said Scott Finlow, chief marketing officer of PepsiCo Foodservice.
PepsiCo will install the system at select workplaces, universities, and hospitality partners, with additional locations to follow.
For more information visit https://www.pepsico.com/
---

Vending Technology News | More News | Vending Newsletter sign up | Questions? Contact us | email press release
Also see: Software Companies | Technology Companies | Micro Markets | Cashless Vending | Distributors | Classified Ads | Routes for sale | Vending Companies USA | Home |
VENDING YELLOW PAGES DIRECTORIES:
Call us at 1-800-956-8363, POST YOUR COMPANY, GET NEW BUSINESS!