Operators Explain How AI Boosts Efficiencies And Improves Profits At NAMA Show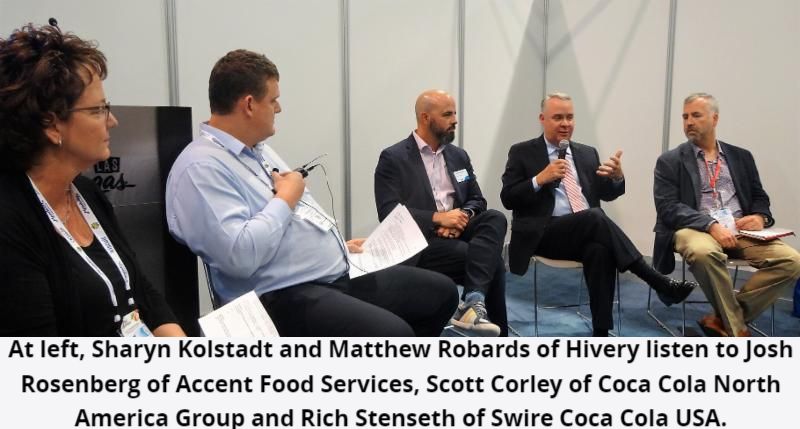 Artificial intelligence (AI) gives companies and organizations the ability to make use of vast amounts of data to improve operational efficiencies and drive top line growth. Given the capital intensive and detail intensive nature of vending, it stands to reason that AI brings an invaluable tool to the table.
While AI is finding application in a wide range of industries, Australia based Hivery has recognized the benefits AI can bring to vending and developed a vending focused package called Vending Analytics. For the second year in a row, the NAMA show at the Las Vegas Convention Center featured a presentation on how the Hivery AI tool has made vending operations more efficient and improved profitability.
Vending Analytics uses a vending company's own sales data to learn the most profitable product assortment, space-to-sales and prices for each individual machine at a given location.
The Hivery AI solution utilizes robotics, sensors, natural language processing, speech recognition, text-to-speech, computer vision, machine learning, machine reasoning, decision making, deep learning neural networks, business analytics and data services.
Moderating the panel at this year's NAMA show were Hivery officials Frank Chamaki, founder; Sharyn Kolstadt, U.S. business development manager; and Matthew Robards, co-founder and data scientist.
Josh Rosenberg, president and CEO of Accent Food Services, Pflugerville, Texas, said he became interested in AI after realizing that Facebook uses AI to satisfy his retail shopping needs as a consumer in ways that make his life easier.
Accent Food Services conducted an 18-month test using the Hivery AI solution in combination with the operating company's VMS solution from Cantaloupe/USA Technologies, Rosenberg said. Machine top line sales have increased between 20 percent and 50 percent.
Rosenberg's company had already progressed from using a paper-based route management system to using  telemetry-based routing. Prior to introducing the AI solution, the company was using a standard planogram for all of its machines to determine what products to put in the machines.
The standard planogram did not, however, meet the needs of all the customers since location populations are not uniform, Rosenberg said. In addition, consumer tastes change frequently due to the high number of product SKUs available. The company's warehouses now have around 4,000 SKUs, a big increase over the last five years.
The AI tool determined product selections on an individual machine basis and increased purchases, Rosenberg said.
Accent Food Service first deployed the AI tool in its beverage machines before expanding it to the snack machines. The next step will be to pair beverages with snacks.
Rosenberg said implementing the AI tool was not as difficult as he expected.
One of the most challenging aspects for Rosenberg was getting employees to buy into the technology, an observation shared by other panelists.
Panelist Rich Stenseth, director of retail vending, Swire Coca Cola USA in Draper, Utah, said the AI tool allows him to make changes quickly that result in a faster sales lift.
Stenseth said his employees were surprised when the AI tool recommended a lemonade beverage in a machine at a university location.
They soon realized that the students were using the lemonade not as a refreshment, but for mixers. This realization prompted them to add lemonade to college sports arenas.
The employees would not have selected the lemonade on their own, Stenseth said.
While Stenseth's company, like Rosenberg's, was already pre-kitting its routes in the warehouse, company sales people were ordering inventory.
The AI tool allowed the purchase process to be automated, allowing the sales people to spend their time on other tasks.
Employees are motivated by making their jobs easier, being able to get home sooner and making more money, Rosenberg said. When introducing a new way of doing things, it is important to align your instructions with what motivates the employees.
To improve employee buy in, Coca Cola North America Group created a video to teach employees why they are asked to do the things the company asks them to do, said panelist Scott Corley, vice president of on premise.
The goal was to help them realize that the AI tool would help them make more money. The video was successful in accomplishing this goal, Corley said.
Stenseth pointed out that it's important for all employees to be apprised of changes being made in the machines. In his company, a senior vice president asked about a product assortment in a machine he saw, not knowing that the AI tool had recommended it. This prompted the company to include a sticker on every machine that the AI tool updates.
Sharyn Kolstadt, Hivery U.S. business development manager, said it's important to make sure that the company is ready to execute the changes.
Asked about the biggest challenge of all, Rosenberg answered data integrity. The company needed to scrub its data, one example being there were 24 names the company was using for a Snickers bar. Rosenberg said it is also important to have a champion on board to make sure the deployment is progressing. Stenseth added that it's important to communicate the results of the changes to the employees.
The panelists agreed it is important when deploying AI to trust the data.
By Jeff Adair, Editor
---

Vending Technology News | More News | Vending Newsletter sign up | Questions? Contact us | email press release
Also see: Software Companies | Technology Companies | Micro Markets | Cashless Vending | Distributors | Classified Ads | Routes for sale | Vending Companies USA | Home |
VENDING YELLOW PAGES DIRECTORIES:
Call us at 1-800-956-8363, POST YOUR COMPANY