Nutrimeals Cooked Meal Automated Kiosks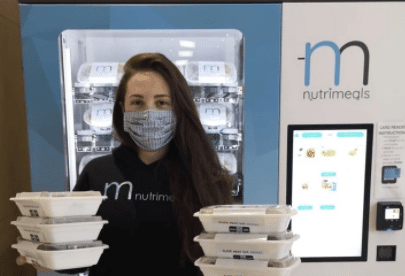 Nutrimeals, a Canadian start up, has been hard at work with creating automated kiosks which serve freshly-prepared meals.  The Nutrimeals automated kiosk vending machine offers a wide variety of healthy, well–portioned menu options ranging from traditional favorites such as shepherd's pie, to beef taco bowls.
Meal production begins with the freshest ingredients and are hand prepared in their commercial kitchen. Each kiosk is loaded with a wide variety of meals that are carefully thought out to cater to many different dietary preferences and pallets, including but not limited to: vegetarian, gluten free, Keto, etc. The company's menu rotates frequently allowing customers to select a wide range of tastes and textures.
According to Nutrimeals, each menu item typically retails for about $10, a price it says is competitive with what one would pay for a meal at a fast food restaurant.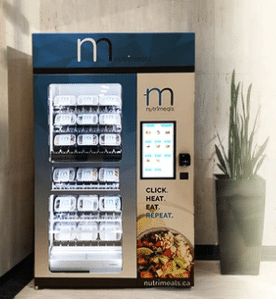 Consumers who want to order a Nutrimeal can download the app to their phone, find out which Nutrimeal vending machine is nearby, then even browse which meals are available in the vending machine, before they go to the machine to order their meal. 
Once the consumer arrives at the vending machine, all they have to do is order their meal right from their smartphone and they can enjoy a total contactless experience because the only thing that they need the touch is the product that they order.  
All of the menu items that are stored in each vending machine have a shelf life of about five days but the company takes an extra precautionary step by removing their nutritional meals from their vending machines after about three days.  Unpurchased menu items are donated to local food rescue charities.
To learn more about Nutrimeals, visit their website at https://nutrimeals.ca, contact@nutrimeals.ca or call (587) 834-0231.
---

 Vending Technology News | More News | Vending Newsletter sign up | Questions? Contact us | SUBMIT PRESS RELEASE
Also see: Software Companies | Technology Companies | Micro Markets | Cashless Vending Solutions | Distributors | Classified Ads | Routes for sale | Vending Companies USA | VendLoco Lists | Home |
VENDING YELLOW PAGES DIRECTORIES:
Call us at 1-800-956-8363, POST YOUR COMPANY, GET NEW BUSINESS!