Mobile App-Based Solution Improves Location Profitability For A&R Services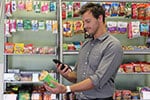 Mobile payment technology has not taken hold as fast as some had expected, but for the refreshment services industry, it could have a major impact considering the ease by which consumers can order products from a market without needing a payment kiosk.
Various mobile app based market systems have been introduced in the last year. One of the more established such offerings is Lane Jumper, a system developed by a micro market operator, Miguel Florez, who was seeking a more cost efficient solution.
A&R Services, a Monument, Colo.-based vending company, has been testing Lane Jumper in government buildings, warehouses, call centers, banks and other customer sites. Company chief operating officer John Kearns believes so strongly in the technology that he has taken a position with Lane Jumper as national sales manager.
The Lane Jumper software supports mobile app downloads for market users and provides back-end management for market operators.
How It Works
The operator pays Lane Jumper a one-time license fee and a monthly fee for each market, allowing up to four "submarkets" in one location. The operator also pays a small percentage of weekly sales.
The software's back-end system allows the market operator to manage the inventory for each market. Once a market is up and running, the operator invites the location's employees to download Lane Jumper mobile apps and establish password-protected accounts. The employees can establish prepaid payment funds and, if they wish, enter credit or debit card account information to pay from credit or debit accounts. Lane Jumper does not store any credit or debit card information and adheres to the PCI compliance guidelines.
The employees can then purchase products in the market by scanning barcodes with their smart phones. Once they pay, they can have a receipt emailed to them.
A New Market Opportunity

"It opens up an opportunity to put a micro market in a much smaller location," Kearns said. He said the cost for setting up and operating a Lane Jumper market is much less than for a bank of vending machines or a kiosk micro market. Hence, the kiosk-less system makes it possible for an operator to profitably serve locations that are too small to justify a bank of vending machines or kiosk micro markets.
Lane Jumper also provides a solution for locations that do not permit kiosk micro markets to use the location's Internet or go through their server. "They (the customers) want micro markets, but they can't have them because of their security IT," Kearns said. "The nice thing about the mobile app is it doesn't tie into their (IT) system at all."
Hence, the kiosk-less system opens up not only smaller locations, but large locations that have tight IT security rules, such as certain banks and government accounts.
LightSpeed Integration
Lane Jumper recently integrated with LightSpeed Automation, the pick-to-light inventory pre-kitting system for vending and micro market warehouses. Operators using both LightSpeed and Lane Jumper can send product orders directly to LightSpeed to automatically update prekits.
The integration with LightSpeed also allows an operator to serve multiple areas within a location without installing a separate kiosk or bank of vending machines for each area. The LightSpeed software tracks the inventory for each separate area within a location. Depending on the populations being served, these different markets can have different service needs.
"That way you can have your prepackaged boxes go straight to that floor," Kearns said. "You can pull those reports based on the volume that's going on in those stores."
A operator can buy one license for an address and be able to service four different markets at that address. "You can use that same license for four floors/locations through that address," Kearns said.
The software also tracks recounts, profitability and product loss.
The Lane Jumper markets can be set up faster than kiosk micro markets. With kiosk systems, it takes as much as three to five days to set up a market.
Operators provide their own shelves, racks and coolers for their accounts. Lane Jumper can suggest sources for these items for those who want them.
"He wanted to help operators that have not gotten into the micro market segment of the business to have a low-cost entry point," Kearns said of Florez. "As well as helping established operators have access to the latest technology. This is a wonderful industry with amazing people that reach out to share and help each other grow."
For more information see:  www.Lanejumper.com,  Call 1(866) 210-0592, info@lanejumper.com.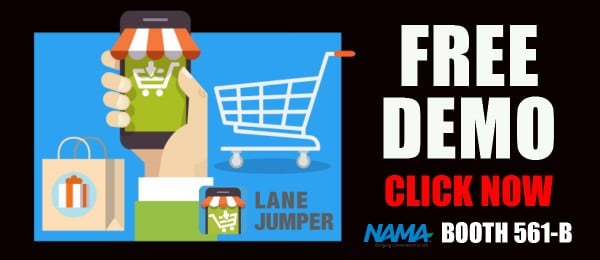 By Elliot Maras
---

Vending Technology News | More News | Vending Newsletter sign up | Questions? Contact us | email press release |
Also see: Software Companies | Technology Companies | Micro Markets | Cashless Vending | Distributors | Classified Ads | Home |
VENDING YELLOW PAGES DIRECTORIES:
Call us at 1-800-956-8363 to POST YOUR COMPANY, or QUESTIONS?