iDrink Technology Partners With Fintech Company To Distribute Blockchain Enabled Drink Machines
iDrink Technology Co. Ltd.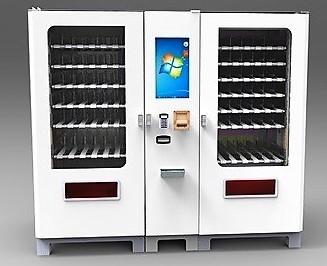 , a Taiwan company that designs its iDrink smart vending machine and the iDrink mobile app, recently signed a joint venture agreement with Sino United Worldwide Consolidated Ltd., a New York based fintech firm, to distribute the blockchain enabled iDrink Smart IoT vending machine in the U.S. iDrink will soon launch Drink Coin, a cryptocurrency backed by the alcoholic beverages industry, through its ICO in the coming year.
Drink Coin is the world's first cryptocurrency backed by an operational enterprise of iDrink's smart IoT beverage vending machines business.
This model brings the cryptocurrency and beverage industries together, adding more value to the Drink Coin, by way of the iDrink business operations that have already started in different locations around the world. SUIC will be responsible for overseeing the marketing and sales of iDrink smart IoT beverage vending machines, which will back the Drink Coin.
Consumers can buy beverages which are represented on the iDrink platform by Drink Coin utility tokens, each token storing all information about the beverage, using Drink Coin cryptocurrency. Beverage producers and sellers actively place their beverages on the iDrink platform for sale to the public and consumers anywhere in the world, providing delivery information programmed in the Drink Coin utility tokens. Consumers can exchange Drink Coin to any fiat or digital currency worldwide, or send Drink Coin to any place globally.
iDrink Technology Co. Ltd. utilizes cloud platform services that consolidate consumption data from beverage manufacturers and consumers alike, and uploads the data to its blockchain-enabled machine.
SUIC and iDrink will offer options for U.S. business partners either to be an independent operator or to be a franchisee of the iDrink Smart IoT vending machine, such as in hotels, restaurants, pubs, supermarkets and shopping malls.
The machines can post ads such as display screen video and image advertising and mobile payment advertising. The machine can process mobile payments by credit cards or mobile payments such as LINE pay, Google Pay, Alipay, etc., or even cash.
For more information visit https://idrink.com.tw/
---

 Vending Technology News | More News | Vending Newsletter sign up | Questions? Contact us | email press release
Also see: Software Companies | Technology Companies | Micro Markets | Cashless Vending | Distributors | Classified Ads | Routes for sale | Vending Companies USA | Home |
VENDING YELLOW PAGES DIRECTORIES:
Call us at 1-800-956-8363, POST YOUR COMPANY, GET NEW BUSINESS!