How Micro Markets Can Use Category Management To Win Against QSRs And C-Stores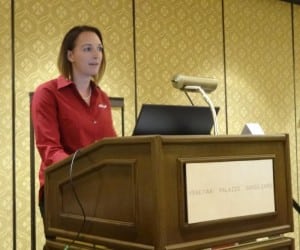 Micro markets have been the biggest growth driver in the refreshment services industry for several years. While many operators recognize that micro markets allow them to offer more product variety, they also need to realize the technology gives them a way to be more competitive with convenience stores and quick serve restaurants.
A session during the National Automatic Merchandising Association (NAMA) OneShow in Las Vegas addressed the need for operators to apply category management to their micro markets in order to capture the key day parts that convenience stores and quick serve restaurants are targeting.
Moderator Michael Kasavana, Ph.D., NAMA endowed professor emeritus, introduced the session, titled, "Applying Category Management to Grow Your Micro Market."
Sam Baffes, a member of Kellogg Company's category management team, advised her listeners that convenience stores and quick serve restaurants have boosted specific day part offerings to increase sales. She said micro markets give vending operators a tool to compete for critical day part sales, but they need to use category management to do so successfully.
"Being able to capture consumers with these options is a great way to grow your business," said Baffes, noting that micro markets presently represent more than $2 billion in annual sales.
Leading Micro Market Challenges

The leading challenge for micro market operators is managing the product selection and minimizing waste.
Category management is a retail concept in which the range of products purchased by an organization or sold by a retailer is broken down into groups of similar or related products, according to Wikipedia. Category management is a systematic, disciplined approach to managing a product category as a strategic business unit.
Baffes said micro markets are an important tool for vending operators since millennials and Generation Z shoppers – presently half the population and growing – enjoy experiencing food through technology. She said 43 percent of vending operators currently operate at least one micro market.
QSRs And C-Stores Target Key Day Parts

Quick serve restaurants have expanded their morning selections with the intent of gaining more breakfast business.
Baffes also noted that 27 percent of lunches today are consumed away from home while 12 percent of consumers either skip eating lunch or don't report it.
Refreshment service operators also face a challenge from convenience stores and quick serve restaurants that are investing in customer rewards programs, Baffes said. She said 42 percent of shoppers enjoy collecting reward points that provide purchase discounts.
Convenience stores have increased customer visits by 2 percent in the last year for combined food and beverage purchases while vending operators have witnessed a 2 percent decline, Baffes said. Convenience stores have increased beverage sales without food by 4 percent while vending operators have lost 4 percent in this area.
The one area where vending operators have beaten convenience stores is food purchases without beverages, boosting their sales by 4 percent in this area where convenience stores lost 2 percent.
Quick serve restaurants, for their part, continue to win morning sales by offering hot prepared meals. Baffes said this represents an opportunity for micro markets, but staff is needed to prepare and maintain these offerings.
Quick serve restaurants have increased their overall traffic share from 20.2 percent in 2006 to 23.5 percent in 2015.
Operators Should Complement Fruit And Coffee

To gain morning sales, Baffes said micro market operators should find food categories that complement fruit and coffee, such as pastries and cereal.
She also noted the important role cashless payment is playing in refreshment services, observing that operators cite cashless payment as the leading technology in improving sales and customer satisfaction. A 2016 NAMA survey found cashless payment is rated 3.6 on a scale of 1 to 5, followed by LED lights, 3.3, vending management systems, 3.1, prekitting, 2.9, remote monitoring, 2.8 and video screens, 2.0.
---

Vending Technology News | More News | Vending Newsletter sign up | Questions? Contact us | email press release |
Also see: Software Companies | Technology Companies | Micro Markets | Cashless Vending | Distributors | Classified Ads | Home |
VENDING YELLOW PAGES DIRECTORIES:
Call us at 1-800-956-8363 to POST YOUR COMPANY, or QUESTIONS?