Georgia Operator Welcomes A New Single Cup System In Quest For Profitability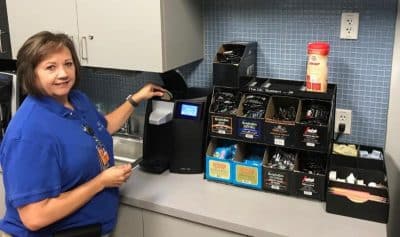 Portion pack coffee has rejuvenated the OCS business beyond many peoples' expectations over the last decade, but profitability has required astute attention to product cost. Charlie Ray, a long-time veteran, has never taken his eye off of new opportunities to meet the consumer's demand for good value – but in a way that allows him to protect his profit margin.
Ray, who operates Ray Coffee Service in Savannah, Ga., was among the OCS operators who began seeking alternatives to the Keurig system several years ago. While Keurig established the portion pack as the preferred OCS choice, the company marketed its products through retail channels in a way that made it difficult for many OCS operators to maintain profitability. Ray, like other coffee service operators, ran into problems when Keurig cartridges became available at retail outlets for prices he could not compete with.
In 2010, Ray welcomed the Tassimo Professional, a portion pack system that only used proprietary Tassimo portion packs, giving the OCS operator more control over the portion pack pricing.
"It is totally proprietary," Ray said. "You're not going to buy them at Kmart."
Replacement Costs Become An Issue
While the Tassimo Professional delivered a good cup of coffee and met customer expectations, the machine is expensive, as are replacement parts. Over time, the replacement parts became a concern for Ray.
"All of these things are run by motors," he said. "They go bad." The barcode readers are expensive, as are the water pumps.
Large locations will have as many as eight brewers in a single office, and 50 offices total. That's a lot of brewers getting a lot of use and having to have parts replaced.
Coffee pod systems offered an option, but Ray did not think they provided the same quality as cartridge-based portion pack systems like Keurig and Tassimo.
A New Option Emerges

Massimo Zanetti Beverage (MZB), based in Portsmouth, Va., has introduced a cartridge-based, portion pack system that Ray believes will meet his customers' needs at lower repair cost.
The MZB system features a proprietary capsule that works with a brewer engineered by La San Marco, an equipment manufacturer that is owned by MZB.
Ray acknowledged the MZB brewer has not been field tested in the U.S., but the fact that the machine does not have a piercer, a motor, an ejector, a slide or a bar code reader is encouraging to Ray.
The Tassimo does offer the ability to function as both a pourover and automatic, a feature he said the MZB unit does not have.
"They (MZB) only sell to distribuors," Ray said. The portion packs are not even available at vending and OCS product warehouses. It is slightly inconvenient to have to buy the capsules from the MZB facility in Virginia, but he appreciates the support the company has shown to the OCS operator.
There are two MZB coffee brewers, the OC1, which is automatic, and an OC2, a pourover.
Ray's salesperson, Janet Hess, sold seven of the new brewers in one day to one of the company's largest customers.
A New Market: European Espresso

In addition to the coffee brewers, MZB offers a machine called the Sigafredo Zanetti that serves European espresso. The espresso machine has allowed Ray to expand into a new market. His largest account has a lot of European employees who love European espresso.
"They know this Sigafredo," Ray said of his European customers.
The European espresso has been a new business for Ray. "This is the real McCoy," he said, comparing the MZB espresso to Americanized espresso beverages he has served in the past.
The Sigafredo espresso capsules are not available at retail outlets, unlike Nespresso capsules that the Nespresso espresso machine uses, Ray said. He has refrained from offering Nespresso for this very reason.
"You're right back to the Keurig problem," he said.
Ray is currently offering nine coffees, four espressos and two teas from MZB.
The MZB coffees are sold in single SKU dedicated cases, 96 capsules per case.
"Each office will buy four or five different things (SKUs)," he said. Contact Ray at (912) 236-2742.
---

Vending Technology News | More News | Vending Newsletter sign up | Questions? Contact us | email press release |
Also see: Software Companies | Technology Companies | Micro Markets | Cashless Vending | Distributors | Classified Ads | Home |
VENDING YELLOW PAGES DIRECTORIES:
Call us at 1-800-956-8363 to POST YOUR COMPANY, or QUESTIONS?