5G Powered Vending Machines Are The Next Growth Sector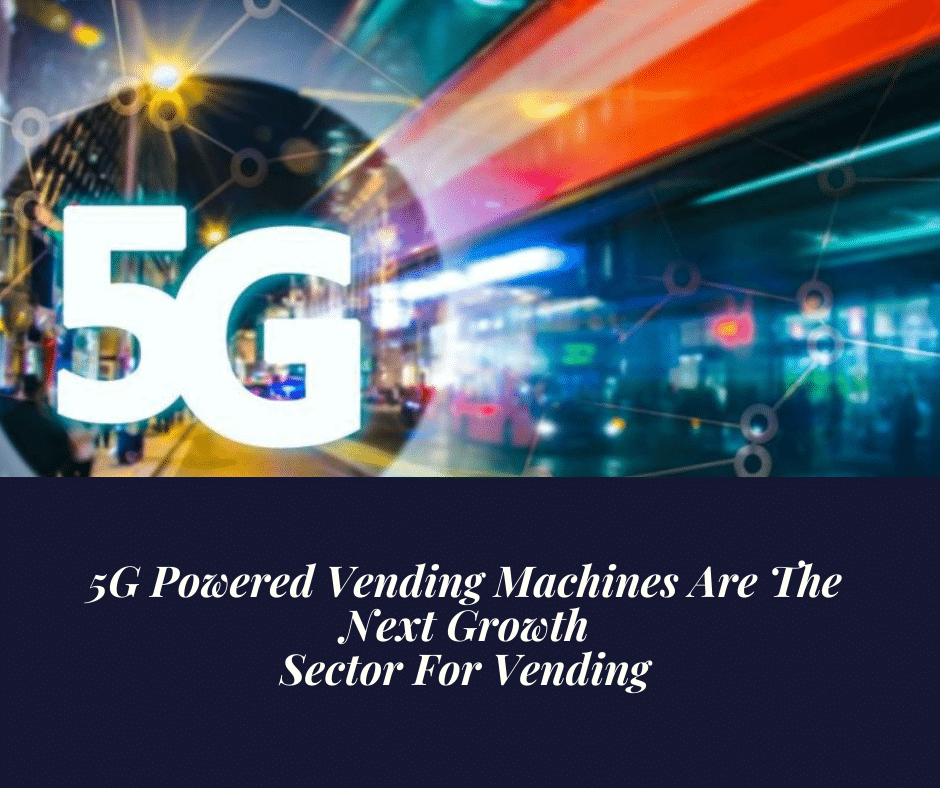 2020 has been a big year for vending because we've seen more vending machines embrace contactless solutions due to the Pandemic, and offer a wide array of new products, the big question though is what's the next big growth area for vending? 
5G is the next big growth sector for vending because when a vending machine can be connected to a 5G network, the machine can alert its operators when it needs to be restocked while also informing the operator of technical errors, safety issues, and more. 
What's even better about having a 5G connected vending machine is that these 'smart' vending machines can also have personalized experiences with customers, ultimately increasing sales and earning more ROI for their owners.  
The Changing Face Of Vending Machines 
Although there still may be a few vending machines out there that only accept cash or coin for their products, more vending machines in 2020 are connected to the internet than ever before and offer touch screens with a variety of payment options so that they can accept multiple ways to pay. 
Besides offering consumers the food or beverages that they want, vending machines in 2020 also have to provide some form of entertainment and engagement because most consumers have grown up with touch screens around them are used to engaging entertainment options. 
How 5G Will Benefit Vending Operators 
When more vending machines are connected to 5G, vending operators will be able to have confidence that their machines will help them earn a good return on investment because there will no longer be any guesswork for things like average sales, downtime, or issues with theft. After all, the 5G connected vending machine can report those issues in real–time. 
Most vending machines in 2020 are still connected to 4G, Wi-Fi, and other connections, thankfully, as 5G becomes more common in cities across the United States. The average vending operator has easy access to 5G compared to a couple of years ago when it was still common for some 5G connections to cost $200 per month. 
Sadly, there still are some vending machines on the market today not connected to the internet and only accept cash or coin, the days of those vending machines are numbered. More 5G connected vending machines will be common in cities around the world especially since the average consumer has a smartphone in their pocket that's their connection to the world. 
5G connected vending machines are the future and we're looking forward to seeing how these vending machines will continue to improve the industry as a whole in the months and years to come.  
By Jeff Adair, Editor
---

 Vending Technology News | More News | Vending Newsletter sign up | Questions? Contact us | SUBMIT PRESS RELEASE
Also see: Software Companies | Technology Companies | Micro Markets | Cashless Vending Solutions | Distributors | Classified Ads | Routes for sale | Vending Companies USA | VendLoco Lists | Home |
VENDING YELLOW PAGES DIRECTORIES:
Call us at 1-800-956-8363, POST YOUR COMPANY, GET NEW BUSINESS!