5-To-10-Year Outlook: All Payments Will Be Virtual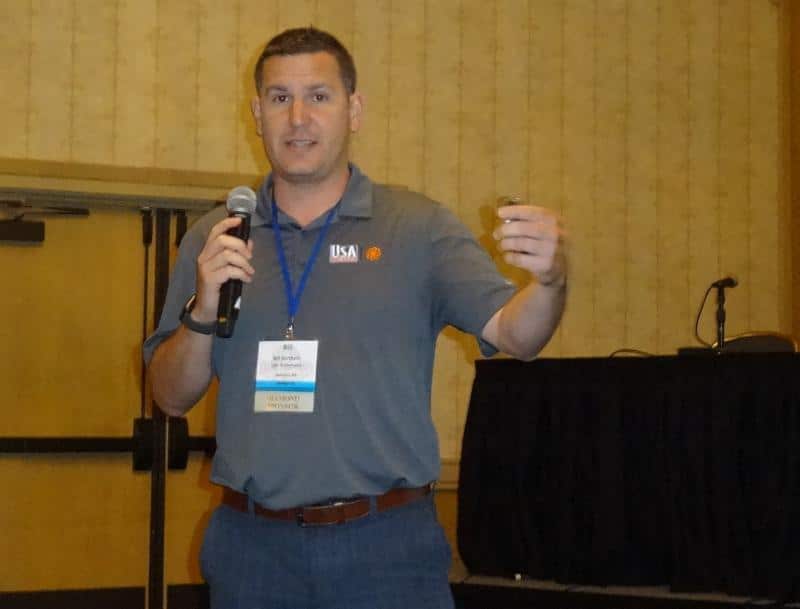 The growth of cashless purchases is no longer the big news for vending and micro market operators. The future, according to one of the featured speakers at this year's Atlantic Coast Exposition in Myrtle Beach, S.C., is mobile payments, which eliminate the need for a credit or debit card.
"Everything will be virtual payments," Bill Bartholic, Northeast regional sales director for USA Technologies Inc., told his listeners. In five to 10 years, all payments, including unattended retailing, will be virtual.
A recent survey of 1,020 consumers by the research firm TSYS confirmed that mobile wallets are gaining on card payments. Eighty percent of mobile wallet owners use the wallets to stop an unauthorized transaction, while 72 percent use them to instantly review their transactions and 59 percent use them to receive location-based offers and promotions.
Consumers will be also be conditioned to make virtual payments using voice assistants for all their buying needs.
The TSYS survey found that 26 percent of consumers are already using intelligent personal assistants such as Amazon Alexa, Google Home and Microsoft Cortana, and nearly half of these consumers (47 percent) use them for shopping. The report claims that in three to five years, ownership of voice activated speakers will become mainstream and intelligent personal assistants will be used regularly for shopping.
Bartholic predicted identity-based transactions will become commonplace, including those using biometric technology and wearable technology.
Cryptocurrency will also become a common form of payment, Bartholic said.
"It's next," he said of cryptocurrency, which includes bitcoin and hundreds of other cryptocurrencies "It's something that's going to be adopted."
To his point, Vending Technology News has reported on the following cryptocurrency solutions for vending: Upstate Networks Inc. has introduced a retrofit kit that allows vending machines to accept cryptocurrency; On Track Innovations has introduced a mobile wallet that allows vending machines to accept cryptocurrency; Reis & Ivy's frozen yogurt and ice cream machines are being introduced that accept cryptocurrency.
Bartholic said the cashless revolution has taken hold worldwide. The percentage of payments made digitally are 57 percent in Canada, 59 percent in Sweden and 60 percent in Vietnam.
Cashless vending deployments continue to expand, he added, having reached 250,000 machines. This is good news for vending operators, he said, as cashless payment has long been proven to lift sales.
Once cashless acceptance is introduced, vending machine sales increase 23 percent after 12 months, 35 percent after 18 months and 43 percent over a longer period, he said.
Besides lifting sales, cashless acceptance eliminates employee theft, eliminates cash inventory management, prevents fraudulent refunds, eliminates time spent on counting cash, and eliminates coin and bill jams.
Bartholic acknowledged that credit cards will not go away in the immediate future, and he encouraged his listeners to embrace NFC contactless card readers in addition to mobile wallets.
For more information visit https://usatech.com/
---

Vending Technology News | More News | Vending Newsletter sign up | Questions? Contact us | email press release
Also see: Software Companies | Technology Companies | Micro Markets | Cashless Vending | Distributors | Classified Ads | Routes for sale | Vending Companies USA | Home |
VENDING YELLOW PAGES DIRECTORIES:
Call us at 1-800-956-8363, POST YOUR COMPANY