365 Retail Markets Debuts Tablet-Based Micro Market Kiosk For Small Locations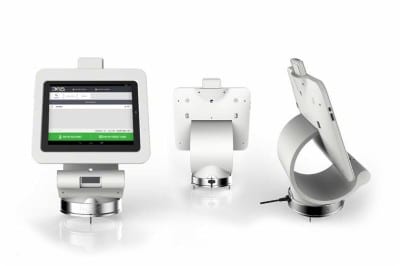 365 Retail Markets, a provider of micro market systems, has released its latest self-checkout kiosk. The 365 nanomarket is a tablet-based device for smaller populations, allowing operators to expand into locations that were previously cost prohibitive.
"While providing a lower cost of entry, we did not set out to simply create a less expensive kiosk," said Joe Hessling, CEO of 365 Retail Markets. "The nanomarket is packed full of new features that delight clients and lay the groundwork for 365's direction in the years ahead."
Features include:
⦁ P2PE credit card encryption
⦁ NFC Support – operators are able to accept mobile wallets such as Apple Pay and Android Pay
⦁ 2D barcode scanner – consumers can scan products as well as present the 365Pay app's QR code to identify themselves at the nanomarket and utilize global market accounts
⦁ Quickpay – users can scan their product, follow by the 365Pay app QR code or barcoded card and check out in three seconds or less
⦁ Search button and nested menus – operators can merchandise an unlimited number of non-barcoded items and allow consumers to search for items by name or barcode
⦁ Built-in cellular service – an optional feature operators may order allows the nanomarket to arrive connected to the Internet out of the box
⦁ Self-staging and diagnostics – operators can configure new locations online, then stage the kiosk in five minutes using the new built-in provisioning app
⦁ Email and SMS receipts – users can get receipts and see purchase history directly in the 365Pay app
The 365 nanomarket comes with a drill template in every box, making it quick and easy to affix the nanomarket to any countertop or floating shelf. A carefully locking ring enables the nanomarket to have a sturdy connection to the counter while still maintaining a polished and finished look.  www.365RetailMarkets.com
---

Vending Technology News | More News | Vending Newsletter sign up | Questions? Contact us | email press release |
Also see: Software Companies | Technology Companies | Micro Markets | Cashless Vending | Distributors | Classified Ads | Home |
VENDING YELLOW PAGES DIRECTORIES:
Call us at 1-800-956-8363 to POST YOUR COMPANY, or QUESTIONS?