Jofemar BT11 MDB Bill Reader Deeply Scans Banknotes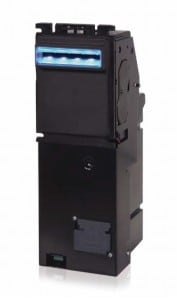 The Jofemar BT11 MDB banknote reader features technology that improves vending machine security, enabling banknotes to be inserted in any position and facilitating access for cleaning. The reader features Jofemar sensor technology that scans the complete banknote with optical, magnetic and IR sensors.
Sensors and analysis software guarantee the correct identification of legal banknotes. The reader recognizes up to 48 banknote positions; 12 banknotes in four directions.
The reader allows access to the banknote reading channel without tools, making cleaning and maintenance easier.
The reader also equips LED lighting in the banknote entrance and different animation sequences, banknote stacker models with different capacities, or an external installation kit for machines without internal space.
It is mechanically fitted to return the last banknote if the sales is not carried out, which avoids spending coin change.
For more information, go to www.jofemarusa.com.
by Elliot Maras
---

| Home | Vending Technology News | More News | Vending Newsletter sign up | Questions? Contact us | email press release |
Also see: Software Companies | Technology Companies | Micro Markets | Vending Classified Ads |
VENDING YELLOW PAGES DIRECTORIES:
Call us at 1-800-956-8363 to POST YOUR COMPANY, or QUESTIONS?