Blu-DEX Bluetooth Device Allows Wireless Machine DEXing
Blu-DEX, a handheld Bluetooth device that wirelessly DEXes vending machines, makes DEXing easier and saves time and money. The device's creator, vending veteran Casey Edwards, isn't the only vending entrepreneur to conceive of using Bluetooth technology to DEX vending machines. But he has seized the opportunity at a time when a large number of people have become familiar with mobile technology, and he has done the necessary ground work to make his device accessible to the market.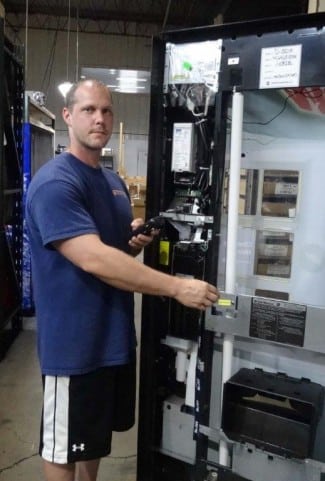 "The industry was going to go to a tablet or a cell phone at some point," says Edwards, who oversees the production of the Blu-DEXes under his recently-formed company, Bulldog LED. "We're just at the very beginning of it now."
A user can sync a Blu-DEX device to a single Motorola MC70 or MC7596/98 series handheld which will allow wireless DEXing, which is easier, if not faster, than using a DEX cable. The plastic-shelled device comes with a charger and lanyard that can attach to a retractable key ring. The rechargeable lithium battery lasts for 24 hours in standby mode and can also be charged with any mini USB charger. The battery is replaceable.
Blu-DEX currently works with Motorola and Android handheld devices. Devices compatible with Apple I-phones should be available in a few months, Edwards says.
When properly maintained, the Blu-DEX device can last for years. Since DEX cables cost between $65 and $80, it doesn't take long for the Blu-DEX to pay for itself.
"When you plug it into the vending machine, it's already linked to your handheld, and you're able to DEX it with no wires," says Edwards.

Adding Blu-DEX device to MC70 series handheld from D & S Vending on Vimeo.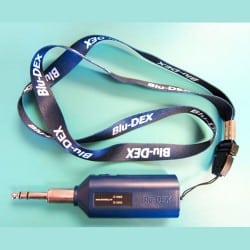 After plugging the device into the machine's DEX port, the driver hits the Windows key and follows the prompts to "read DEX" for the machine. The data then transfers from the Bluetooth device to the handheld. It takes 10 seconds normally for the Bluetooth signal to locate the device.
The driver can be up to 60 feet away from the machine to DEX it. This allows the driver to attend to servicing machines or doing other tasks while DEXing. "He can plug it into one machine and start DEXing it, and he can do whatever while the machine's downloading," Edwards says.
About 650 Blu-DEX units have been sold since Edwards began offering the device a year and a half ago.
Edwards is in the process of securing compliance for Blu-DEX from Apple Inc. for Apple I-phones. He expects the Apple-compliant devices to be in production in a couple of months. "Getting them to let you do that is quite a process," he says.
The device is custom manufactured in China.
Bill Lockett, an independent vending software salesman and a longtime vending software observer, notes that other Bluetooth DEX devices have been introduced in the past. One such device simply got put on hold because the company was focusing on other areas.
The Blu-DEX device will be a solution for machines that might not justify having telemetry devices installed, Lockett says.
One large Midwestern operator is using the Blu-DEX devices for the machines that don't have telemetry. "There will be a lot of machines that need to be DEXed that aren't telemetry-driven," Lockett says. "This fills in the blanks."
The Blu-DEX will also come in handy for machines with dysfunctional telemetry. While this is not a widespread problem, it does happen. "You have issues in the coin room that day in settling that machine," Lockett says. "DEXing it every time whether it's got a device in it or not is like insurance. Insurance on getting a DEX reading the coin room can use to balance that machine on that day."
A Vimeo video is available at https://vimeo.com/98990171
The device is available from D&S Vending Inc. and directly from Edwards. Edwards can be contacted at bulldogled@yahoo.com. The company website is bulldogled.com.

by Elliot Maras
---

| Home | Vending Technology News | More News | Vending Newsletter sign up | Questions? Contact us | email press release |
Also see: Software Companies | Technology Companies | Micro Markets | Vending Classified Ads |
VENDING YELLOW PAGES DIRECTORIES:
Call us at 1-800-956-8363 to POST YOUR COMPANY, QUESTIONS?