Veteran Equipment Distributor Unfazed by Today's Challenges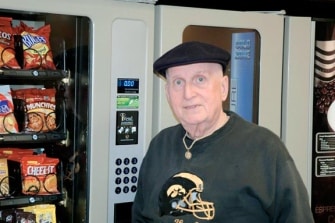 Louis Kershbaumer's experience, before and after his 60 years in vending has taught him to stay positive despite the recession. Louis Kershbaumer has been a number of things in his life. He's been a photographer, a navy man, a vending machine salesman, and president of a division of the Wittern Group. His experience, before and after his 60 years in vending, has taught him to stay positive despite the recession because, well, it's all happened before.
I have gone through at least seven of these downturns due to interest rates of 15 percent, high unemployment, factory layoffs, etc. said Kershbaumer. He sees the current downturn as having the potential for business growth if operators know how to take advantage of it. Now at an end in 2018. Employment at new high in 2019 since 2008 down to 2.9% here in Iowa. Means more people using Vending Machines.
LEARNING TO SELL AND MOTIVATE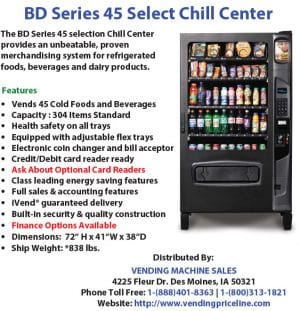 Kershbaumer's sales career began at age 13, when he went into the photography business. He took pictures at more than 500 weddings, learning how to find and then sell clients his services. The lessons were invaluable.
That career ended when he chose to join the U.S. Navy during the Korean War. Kershbaumer spent the better part of a decade in and out of active duty. Most notably In 1957 and for 6 years running, Kershbaumer acting as administrator helped Division 4-47 in Johnstown, PA get the Bull Halsey trophy for having the best naval reserve division in the nation. Of his time in the military, Kershbaumer remembers learning a lot about administration and motivating people. He tries to continue to motivate vending operators to provide good service and go after new accounts.
FIFTY EIGHT YEARS IN VENDING
It was 1960 when Kershbaumer's brother Peter convinced him to get into the vending business, then a $3 billion industry. He started selling vending machines with Lehigh Co. in Easton, Pa.
Three years later, he joined the Wittern Group as a distributor. In 1966 took over Federal Machine Corp. becoming a competitor of Fawn Vendors, in 1968 became 44% of Wittern Group sales to surprise of many in Wittern Groups management team. Kershbaumer remembers starting out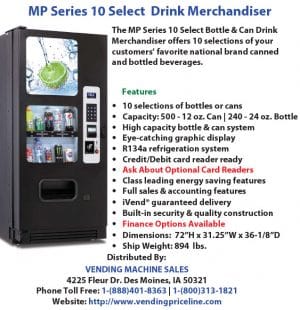 BD Series 45 Select Chill Center selling cigarette machines." There was little in candy machines being sold then," he said. The cigarettes sold for 30 cents, and when the price rose to 45 cents, Kershbaumer remembers operators being concerned people would stop smoking due to the high price. As we know, that fear was unfounded. "A smoker today could buy 20 cartons then for what one carton sells for today," he said. When he today see's a cigarette smoker smoking a cigarette, he says joking to them you know that is a whole pack back in 1960 when I started selling cigarette machines.
Kershbaumer continued to bring new machines to customers, selling coin laundry machines, freeze-dried coffee machines, candy machines, and the once popular popcorn vendors. Then came canned drink machines and sandwich machines.
One of the greatest improvements in vending during the years was the bill validator in 1970, he recalls. In 1966, Kershbaumer became president of Federal Machine Corp., a division of the Wittern Group. Over the next 28 years, he signed up more than 500 distributors and operators. When Kershbaumer retired from Federal Machine Corp. in 1994, he was said to be instrumental in making the company a dominant force in the vending industry. Every head of the company's six sales organizations had served under him in either a distributorship or employment capacity. Now partially retired, Kershbaumer continues to sell machines nationally for Vending Machine Sales in Des Moines, IA.
OPERATORS MUST BE TENACIOUS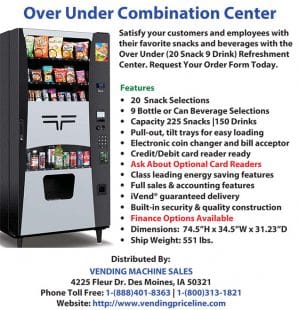 Perhaps the real power of his experience is that he can be optimistic if not excited about opportunities for small and medium-sized vending operators to grow. According to Kershbaumer, big companies are cutting back on personnel, so locations are not getting the same level of service after the 2008 turn back. Smaller operators who invest in new equipment with services such as card readers and remote monitoring have a chance to get these locations more then ever in 201.
Aggressive Operators are out looking for your outdated equipment. Recently an Operator called me to complain, he just got a call from a Operator advising him he will be taking over his location in 90 days when his contract expires. "If operators don't move in that direction, they'll lose market share," said Kershbaumer. He sees that consumers are more likely to use a credit or debit card instead of dig for change, especially when few items in vending machines are less than a dollar. These new capabilities give an operator a chance to provide better service, increasing their market share, explains Kershbaumer. Plus, the current low interest rates and business friendly tax laws give an advantage to those investing in their companies.
Look up our website vendingmachinesales.com and fill out a credit application today.
Kershbaumer is proud to be in vending for 58 years. He's sold over 250,000 machines through the companies he was affiliated with and plans to help many more operators grow. Your company can be green and growing or ripe and rotten depending on what you are ready to do.
Remember, Opportunities Are Never Lost, Someone Will Take The Ones You Miss
For the best vending equipment deals contact us today for a quote.
Call Lou or Jay at: 1-(888)401-8363 | 1-(800)313-1821
Or come visit our website vendingmachinesales.com
---

  Vending Technology News | More News | Vending Newsletter sign up | Questions? Contact us | email press releases |
Also see:  | Technology Companies | Micro Market Companies | Vending Machine Distributors | Vend Classified Ads | Routes for sale | Home |
VENDING YELLOW PAGES DIRECTORIES:
Call us at 1-800-956-8363 to POST YOUR COMPANY, or QUESTIONS?