Fixturelite celebrates five-year anniversary and 2500 markets placed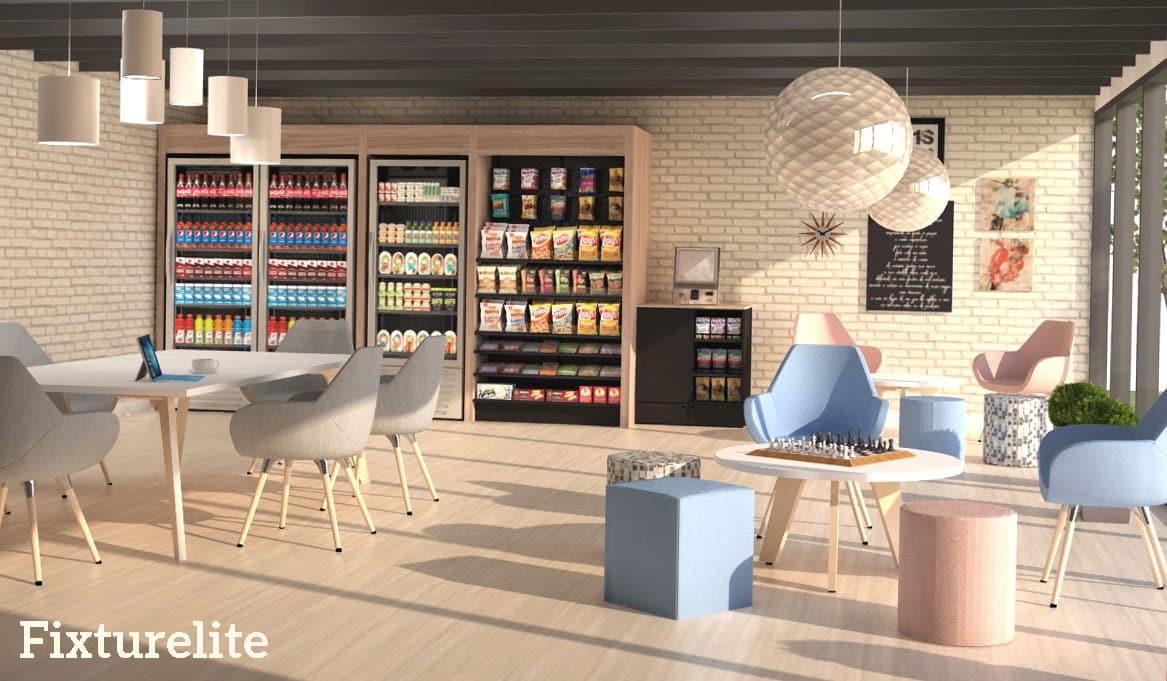 Fixturelite™, the industry leading supplier of micro market retail displays, seating, and design features is celebrating their five-year anniversary and 2500 markets placed with a newly revamped website, and their 5th, and newest Collection of retail displays at booth 1461 at the 2019 NAMA Show. 
"The many success stories from operators who have relied on Fixturelite to fuel their profitability, including one operator who nearly doubled his sales by turning to Fixturelite for design and product support, and all of the referrals from our many trusted partners are what has made Fixturelite successful," Co-founder Steve Orlando said.  
"We have a distinct competitive advantage," said Orlando. "As a former operator with 10 years of experience, we understand the needs of operators.  As a result, we have helped the nation's largest micro market operators take their markets to the next level and have delivered instant solutions for some of the smallest, allowing them to level the playing field and compete successfully." 
"Everything we offer is built for operators, by operators," he said. 
Orlando and his partner, Troy Geis, recognized the evolving need for operators to focus on breakroom design and function when they transitioned from operator to supplier in 2014.  "We were building our own fixtures as operators and saw the results.  It allowed us to land huge micro market accounts as a small player.  That's why we decided to launch Fixturelite and offer our experience and solutions to the micro market industry," said Geis. 
The newly launched Fixturelite website shows just how far their fast-growing company has gone in five years.  The website is focused on helping operators go beyond building a breakroom for their clients.  Fixturelite's furniture, fixtures, and equipment are centered on building an experience, an employee lounge setting where they can refuel, relax and collaborate. 
While the website offers design and product ideas, it accommodates the increasing need for quick and easy solutions by offering in stock products such as Minus Forty coolers, furniture, and a newly launched security camera system – all available on a quick ship basis. 
Five years in, Fixturelite has launched another new product collection. "Our 5th Collection of products is showcased by our focus on Turnkey Design Concepts, such as a mid-century modern design," said Orlando. "We don't believe in one-size-fits-all, and we're not fans of bland options designed for mass production. With our Turn-Key Design solutions, operators get a selection of high-quality designs that we'll customize – these are branded concepts that an operator can leverage immediately." 
Over the past five years, Fixturelite has cultivated strong strategic partnerships that have proven to be a valuable resource to operators.  "Our growing relationship with Minus Forty Technologies and Translucent have made us stronger as a supplier and helped operators deliver the optimum breakroom experience to their clients," said Orlando. 
"To celebrate our anniversary, we are giving away one of our coveted new market security camera systems.  Operators are ra-ving about them because they eliminate all of the headaches associated with micro market security," said Orlando.  Fixturelite will bring their anniversary celebration to the 2019 NAMA Show.  Booth 1461. Las Vegas – April 24 to 26, 2019. 
For more information call 888-697-1508.
---

Home | Vending Technology News | More News | Vending Newsletter sign up | Questions? Contact us | email press release
Call us at 1-800-956-8363 or POST YOUR COMPANY, GET NEW BUSINESS!