CRANE BUILDING NEW EXPERIENCES WITH NEXT GENERATION PRODUCTS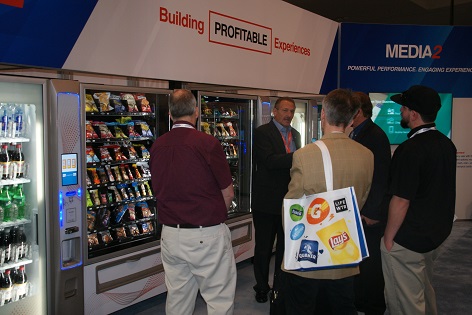 CRANE MERCHANDISING SYSTEMS IS BUILDING EXPERIENCES FOR OPERATORS AND CONSUMERS WITH NEXT GENERATION PRODUCT OFFERINGS 
WILLISTON, S.C. – May 6, 2019 – Crane Merchandising Systems, a Crane Co. company and the leading global manufacturer of innovative solutions for vending machines, cashless systems, enterprise software solutions, and wireless communications is "Building Experiences" through several next-generation product offerings which was demonstrated at the 2019 NAMA Show April 24-26.  The company also launched a national "Building Experiences" campaign at the show.  
"As a full-solution provider, we are driven by our commitment to create meaningful results for operators and their businesses," said Brad Tedder, President of Crane Merchandising Systems.  "We are building value-added experiences through a robust and integrated product offering that includes vending equipment, hardware and software, which creates a better return on investment for operators than non-integrated solutions."  
The campaign features the words Building and Experiences separated by an adjective encased in the Crane box consistent with their logo and is prominently displayed throughout the 60×60 booth at the Las Vegas Convention Center.  
Every product or solution demonstrated by Crane at the NAMA Show brings to life the Building Experiences message including MEDIA2, Simplifi software, CORA, Crane Cashless, Digital Advertising, and the three new coffee machines COTI, CALI and LINEA. 
Attendees visiting Crane's booth 1102 were able to see: 
that 

MEDIA2 is building engaging experiences 

for consumers 

with its larger touch screen, suggestive selling feature, full-motion video and digita

l advertising




 

t

he Simplifi 

software

, 

a next-generation cloud 

platform for connectivity and enterprise management

,

 is building

 connected and

 efficient experiences by

 allowing operators to 

manage their business on the go




 

Crane Cashless and CORA

 are

 building profitable experiences by leveraging 

connected 

screen

s to display and help operators earn revenue from third party advertising through the Crane Media Network.  To date, Crane Media Network has run over 

60 

national campaigns with more than 50 national

 brands and has 

delivered operators additional

 revenue totaling mo

re than $250,000 from 2016-2018




 

Coffee by Crane is building convenient experiences 

by 

introducing 

two

 new freestanding machines called COTI and CALI

,

 and one new tabletop called 

LINEA –

 ensuring there is a coffee machine for any location.

 
"We are successful when our customer is successful," said Tom Glomski, Vice President of Sales and Marketing for Crane Merchandising Systems.  "And that's why our entire strategy is vested in building the kind of experiences that create profitable growth for operators." 
Crane is releasing a short video highlighting the value of their expansive product offering.  It will be promoted via the company's social media pages. 
About Crane Merchandising Systems 
Crane Co. is a diversified manufacturer of engineered industrial products. Crane Co. is traded on the New York Stock Exchange (NYSE:CR).  
One of its segments, Crane Merchandising Systems, designs and manufactures a diverse, yet integrated portfolio of automatic merchandising equipment across multiple verticals, including hot and cold beverage, snack, and food. It also offers other vending solutions including cashless processing, payment devices, vending management software and wireless communication technology. Its legacy of brands (Automatic Products®, Dixie Narco®, GPL®, National Vendors™, Stentorfield™ and Streamware®) enables Crane to provide customers a complete, cross-platform solution while maintaining innovation, quality and service.  
---

Home | Vending Technology News | More News | Vending Newsletter sign up | Questions? Contact us | email press release
Call us at 1-800-956-8363 or POST YOUR COMPANY, GET NEW BUSINESS!