Colorado Vending Machine Companies, Micro Markets
COLORADO STATE Vending Machine Companies. Offering Free Vending Machines: Snack, Soda, Coffee, Food, Frozen, Healthy, Micro Markets, Amusement Games and repair services for your employee breakrooms. Please contact these vending machine operators directly for more information about their vending products and services.
Also see: Vending Companies in Colorado, Aurora, Colorado Springs, Denver, Fort Collins, Pueblo,
Vending Operators USA, Office Coffee Service Colorado,
POST YOUR COMPANY-Get New Business!
Company/ Website
COLORADO Vending Machine Companies
Photo/Logo
Contact info
A & Vending Machine Services Colorado – Your vending machine supplier for candy, soda, snack, Coca Cola, Pepsi vending machines, office coffee service and vending supply products, and micro markets in the greater Denver Colorado market. Visit website www.arservices.com.

Black Forest Vending & Vending Snack Services – based out of Colorado Springs, Colorado.
DP Vending is a full-service company offering vending machines, micro-markets, stocking, and maintenance located out of Commerce City, Colorado, serving the Greater Denver area and Charlotte metro area. Specializing in prompt, reliable, and outstanding customer service, we're "Your First Choice for Snacks!". Visit http://www.dpvendingllc.com
Feed the Machine extends its service to the Arvada, CO area and its surrounding areas. Are you looking for snacks and drinks to offer your employees or customers? You'll be impressed with our long list of brand name snacks and drinks. If you are unhappy with your current vending service or you are a new company in town please do not hesitate to give us a call. Please call us at (608) 343-5447 or email us. We offer a 60-day free trial with no strings attached.
G&S Vending – Full Line Vending machine services from Sodas, Snacks, Coffee and more! Servicing Colorado state.
J&G Vending – We have all your favorite K-cup coffees and teas available. We set our machines and your customers benefit from coffee anytime. We are based out of Trinidad, Co. Visit us on Facebook.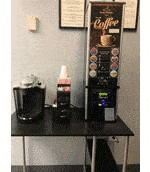 Longmont Vending – Vending machine Services: Snack, Food, Deli, Soda, Drinks and much more! Serving the state of Colorado.
Northstar Vending services the Westminster, CO area. Cindy and Penny have been business owners for over 14 years. We are responsive, visionary, and reliable. We are eager to assist you in the quest for excellence. If you are unhappy with your current vending service or you are a new company in town please do not hesitate to give us a call. We would love to come in and conduct a vending survey to help you decide on different vending options that would suit you and your employees. Please call us at (303) 438-8913 or email us. We offer a 60-day free trial with no strings attached.

Rainbow Vending, Inc.We offer skilled professionals, comprehensive coverage, and state of the art equipment. Our services include full line vending and office coffee service suppliers in the Denver Metro Area.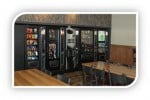 The Discount Vending Store
At The Discount Vending Store, we provide just that– great quality vending machines at discount prices. We have a huge variety of machines, from combination (combo) machines, to healthy machines, soda machines, bulk candy/gumball machines, and more. We have a team of experienced vendors who have worked in the field and understand what is required to run a vending business. Based in Colorado.
Versatile Vending sales and repair – Our vending company is based out of Englewood, Colorado.
Phone: 303-761-1165
Fax: 303-761-5711
Also see: Suppliers Directory, Vending Companies USA, Colorado Office Coffee Services, Locators, Micro Markets, Distributors, Classified Ads, Food & Drink Brokers, Routes for sale, Trade Shows, News, VendLoco Lists, Home,
POST YOUR COMPANY-Get New Business!