COPYREX 4.0, A COPY PRINTER VENDING MACHINE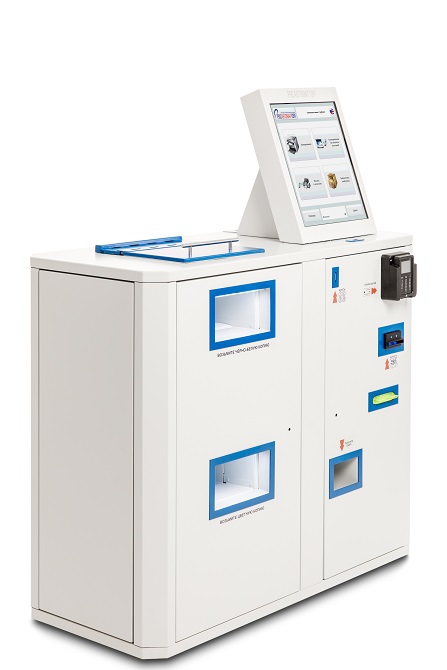 COPYREX 4.0, this copy printer vending machine is entry point to the ready business. Reliable, easy to maintain and solves the whole range of copy services. Printing, copying, scanning and library.
The machine is fully automatic. All you have to do is fill the machine with toner and paper and plug it into the power socket.
Remote control of your business and financial indicators.
Cost of copy less the $0.01. Wide range of functionality and reliability provide continuous earnings.
Our machine takes up only 1 sqm of space.
Payments can be accepted by card or cash.
Print from phone.
Extra paper trays – upto 2500 sheets.
Advertising on screen.
Various payment options.
Software for remote control of sales, status and operations.
COPYREX 4.0 – solves all the copy requirements.
PRINTING, COPYING, SCANNING, AND LIBRARY!!

Copyrex 4.0 – is the latest model of our multifunctional vending copy machine.
Height: 1460 мм
Width: 1150 мм
Depth 500 мм
Weight: 200 kg to 300 kg, depending on the step.
This machine was designed according to the technical operation requirements. This model combines good build quality, reliability, easy of use and service.
ABOUT ROSAVTOMATTORG
Rosavtomattorg started trading and manufacturing vending machines in 2006. Our main is to provide our clients be it in Russia or worldwide with the most efficient and reliable vending solutions. Copyrex 4.0 — vending copy machine was designed with high printing load in mind.
For more information visit http://www.copyrex.ru/en/, or email sales@rosavtomattorg.ru
Call +7 (495) 357-03-37
For USA dial: 011 7 495 357 03 37
---

Home | SUPPLIERS DIRECTORY | Vending Newsletter sign up | Contact us | SUBMIT PRESS RELEASE
VENDING YELLOW PAGES DIRECTORIES:
Call us at 1-800-956-8363 or POST YOUR COMPANY, GET NEW BUSINESS!