Vagabond Accepting Pre-Orders for New vīv Credit Card Reader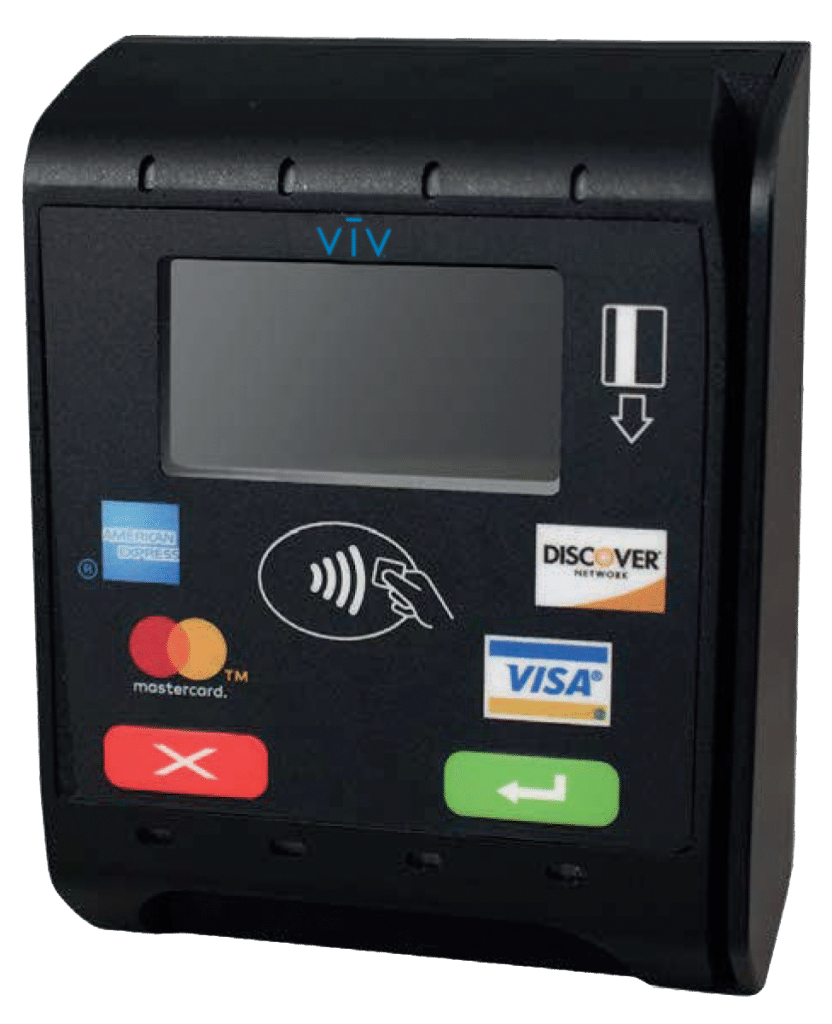 Vagabond, a leader in modernizing the vending industry, announced the release of its vīv Reader, a credit card reader supporting swipe, dip, tap cashless payment methods with its award-winning vīv mobile touchless technology built directly into the device. Vagabond is immediately accepting pre-orders on a first-come first serve basis for its vīv Reader, with many existing Vagabond members already reserving units.

Benefits with vīv Card Reader

A sense of urgency from the combination of sunsetting 2G/3G cellular networks disabling numerous credit card readers and global supply chain disruptions and delays has resulted in operators planning ahead and reserving units now to avoid service disruptions at their accounts. The vīv Reader will begin shipping Q1 2022 with 24-month and 36-month financing options available. Vagabond recommends operators to act now to prevent lost sales from 2G/3G devices that are already starting to go dark.
The LTE vīv Reader has been designed with a modular cellular modem so that if LTE devices ever do sunset like 2G/3G devices are currently experiencing, the cellular modem can be easily swapped out for a fraction of the cost of replacing the entire credit card reader.

Vagabond provides 24/7 network support and business-hour phone installation and troubleshooting assistance for vīv Readers. Vagabond's VMS solution is included with its monthly service fee for the devices and operators can have the sales data sent to the VMS of their choosing.
In addition to traditional cashless payments, the vīv Reader provides consumers the ability to make remote, touchless purchases at vending machines with Vagabond's patented vīv payments solution.

Additional Monthly Purchases with vīv

Vagabond reports that vīvers (consumers paying with vīv) make 76% more monthly purchases at vending machines than traditional credit card users or 8.8 monthly vīv transactions compared to 5 monthly traditional credit card transactions per consumer. This results from direct consumer engagement vīa email and by providing operators the ability to change pricing remotely on-demand and schedule vīv pricing events for expiring, strategic, high-margin, and high-rebate products. vīv also allows operators to promote certain products by visually placing items at the top of the vīv menu, resulting in 30-300% increases in sales for sponsored products. 1st purchase-free signup campaigns assist in converting consumers to vīv and targeted marketing direct to consumers ensures these promotions are effectively communicated.
Anyone interested in pre-ordering Vagabond's touchless vīv Reader can visit vgbnd.co/marketplace/viv-reader. Those with questions or inquiries can reach out to the Vagabond team at info@vgbnd.co, by calling 202-695-8228, or by visiting https://vgbnd.co/request-info.