Three Square Market Checkout Kiosks, Add More Versatility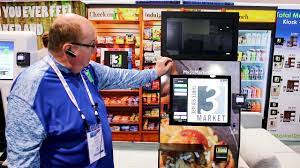 Are you thinking about adding another checkout kiosk to your micro market business? If so, Three Square Market has the right kiosk that you need to help your business to grow.
A leader in the micro-market and self-pay store technology, Three Square Market is an intuitive software company that offers you the solutions that you need to build a thriving micro-market. 
Watch the 2 Legends video: Kurk Johnson AND the Coffee Kiosk! 
Find The Right Checkout Kiosk For Your Business
If you've owned a micro-market for some time, you know that you can't just choose a "one-size-fits-all" approach to choosing a checkout kiosk. You may choose one that will fit in the location space, and offer your customers the solutions they need.
Junior Executive Kiosk – A fully customizable kiosk that's an ideal fit for any space including micro-markets, canteens, or businesses where there is little to no space.
Express Lite Kiosk (Vertical) – This 15" compact checkout kiosk also offers a sleek design, highly accurate scanner, and super quick scanner that will be ideal for any micro-market.
Canteen Kiosk – This portable unit offers a 15" touch screen and an integrated cash drawer that can be used in a variety of settings including micro-markets and canteens.
Grow Your Business In 2022 With This Checkout Kiosk
Offering your customers more ways to pay in 2022 is an essential way to grow any micro-market business. When you utilize a Three-Square Market checkout kiosk, you can set up a checkout kiosk anywhere, generate easier sales and grow your business.
To learn more about their checkout kiosks, visit the Three-Square Market website at https://www.32market.com or call (715) 386-2233.