Add Age Verification To Vending Machines With VAV Box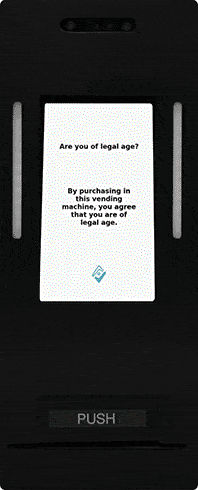 A European manufacturer has developed an age verification add-on module for vending machines worldwide.  The module makes operators more competitive with traditional retailers which have the ability for an on-site clerk to check a consumer's age.  Now made available in USA!
It also enables operators to expand into sales of products such as CBD, which may require age verification, without purchasing a new machine. With VAV Box by CAV Solutions, business owners can now have an option for age verification using new or used vending machines.
The VAV Box MDB port plug-and-play hardware uses artificial intelligence and two cameras to scan the consumer's photo ID and age information and verify the image with the camera view of the person at the machine.  An additional program, called R-Seller, allows an operator to have a live person remotely help verify age.
To use VAV box, all a customer has to do is place their driver's license, or form of identification, into the scan slot and the machine will verify the age of the customer. If a business owner wants to have a real person to assist with age verification, they can sign up for R-Seller, an additional program that CAV offers which utilizes a real person (remotely) to help verify a customer's age. 
Fully automated age verification solution for vending machines. The Age Verifier contains a biometric camera and own-made document scanner that allows to provide two-step verification process, most suitable for precise, quick and secure age verification on the spot at your vending machine.
Increase your sales with age restricted products.
Profit from age restricted products is higher.
Does not allow sales to minors.
To learn more about VAV box, visit their website https://vavsol.com, email info@vavsol.com, or call 352-474-3797