UVend Technology Kills or Inactivates Up To 99.9% Of Viruses and Makes Vending Machines Safer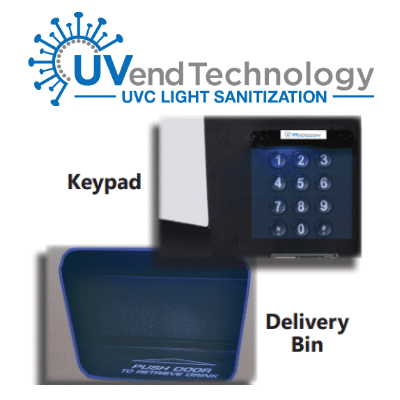 In 2021, consumers still want their vending machines to be fast and convenient, but they also want vending machines to be safer to use, reducing any risk of transmitting viruses.
eVending.com just announced their new UV light sanitization UVend Technology. Consumers can now use vending machines with confidence because any vending machine that's equipped with this technology will kill or inactivate COVID-19 and most common viruses and bacteria on the machine's high touch surfaces, such as the keypad and delivery bin.
Consumers Can Use Vending Machines With Peace Of Mind Again
When UVend Technology is on a vending machine, consumers who use that machine can have peace of mind in knowing that the threat of catching or transmitting COVID-19 and most common viruses are significantly reduced.
This chemical-free technology utilizes UVC light sanitization, the same technology that's also used in the healthcare industry, schools, retail and other industries around the world.
Manufactured by a leading UV lighting supplier, UVend Technology utilizes an automated motion sensor 'blue light' that sanitizes the machines key pad or touchscreen and delivery bin, two of the most commonly touched areas on a vending machine.
With this sanitizing technology, operators can have confidence in knowing that their machines are sanitized and ready for use, and consumers can have peace of mind in knowing that they can use vending machines that have been quickly and safely sanitized with UV light. 
Independently Tested
In 2021, every operator wants to provide their customers with a safer vending experience. Thanks to UVend Technology, operators can have confidence that their machines will be sanitized and ready to serve customers.
UVend Technology is available on all of eVending.com's most popular vending machine models including the Futura Combo Vending Machine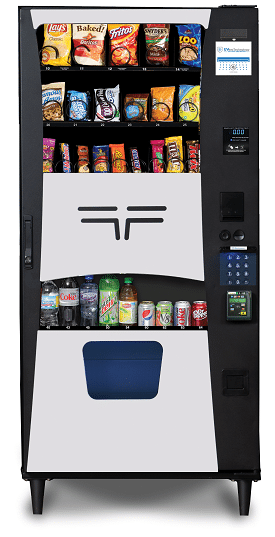 The Futura Combo Vending Machine, with UVend Technology, is one of the most versatile vending machines on the market today.
This vending machine has been designed specifically to meet the extensive requirements of vending consumers but what's best of all is that the patent-pending UVC light sanitization technology will provide a safer experience for consumers.
Safer Vending with UVend Technology
Vending machines have remained an essential business during the pandemic because they are one of the easiest ways for consumers to get the foods and beverages that they want but even though they are convenient, those machines have to be safe.
With this light sanitization technology, vending machines everywhere are becoming safer to use, even in company breakrooms across the United States where many vending machines typically reside.
Companies that use this technology on their vending machines can have vending machines with confidence once in again because they won't have to worry about the potential of their vending machines being transmission points for most common viruses.
Yes, this technology is going to be a 'game changer' for every business, or location, that's looking for the best method for offering a safe and sanitized vending machine.
About eVending
Based in Des Moines, IA, eVending is a leading vending solutions provider, offering the industry's most comprehensive range of integrated, full-line vending equipment, services, and technology. Family owned and operated, through its parent company, The Wittern Group, eVending has served the convenience services industry since 1931.
Make 2021 the year that you offer your consumers a safer, germ-free vending machine. Learn more about light sanitization technology by UVend by visiting their website at www.evending.com, 866-623-6496.