PowerMate LiftGate – The Convenient Way To Move Vending Machines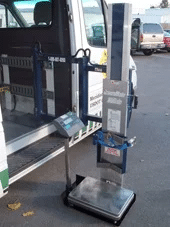 All vending operators have one thing in common, the need to move machines in and out of locations.  Some operators move their own machines, others subcontract moves to outside businesses, thus incurring additional expense and perhaps delivery delays and further machine downtime. If operators move their own machines and don't have proper moving equipment, employees may injure themselves which opens up a completely different business situation. Proper moving equipment, such as the PowerMate LiftGate series, provides operators an efficient way to move their machines which will also save backs and reduce the chance of employee injury. 
About The LiftGate
Made by PowerMate, the LiftGate offers everything that an operator needs to conveniently move one of their vending machines without risking injury.
The company offers two different versions of their liftgate. Both versions (LG-3 and LG-6) are ideal solutions for full-sized vans because each comes equipped with a swing arm that will enable operators to easily position their loads into their vehicles safely and offers these benefits:
Has a small footprint at just 1.5 square feet.
Right- and left-hand mounts are available.
PowerMate offers liftgates for vans of all sizes.
Draws power from the vans 12-volt electrical system
Job safety is #1 for every operator because for most operators,if they go down due to an accident or injury, there's nobody that can step in and easily take their place.
With the PowerMate LiftGate, operators can have confidence that they can protect themselves and reduce job site injury complaints or claims by employees because the LiftGate enables vending machines to be moved safely without the risk of injury.
Learn more
For more information about the PowerMate LiftGate, visit their website at https://www.powermate.info or call 800-697-6283.