Le Bread Xpress Anticipates Tripling Installations in 2021
Following a successful 18-month test of Bake Xpress fresh hot bakery vending machines in the San Francisco area with Canteen Vending Services, Le Bread Xpress anticipates it will triple machine locations by the end of this year.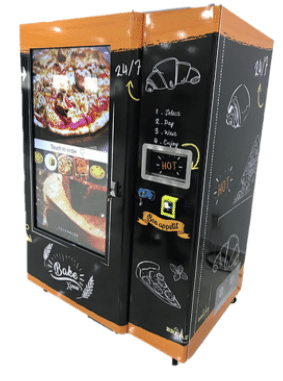 Le Bread Xpress this week announced that Canteen will be installing and managing Bake Xpress robotic bakery vending machines at its locations throughout North America.
"This announcement represents a significant milestone for us and will allow us to accelerate our business in new markets and new regions. We are seeing great traction with both large distributors and small individual operators across the US and other locations worldwide," said Benoit Herve, founder and CEO of Le Bread Xpress.
The San Francisco tests with Canteen included Bake Xpress placements at several university, corporate breakroom and manufacturing sites. "These Bake Xpress installations allowed us to realize our vision of providing fresh meals 24/7 and to thoroughly validate our supply chain and baking procedures," Herve added. "We are excited to move into widespread deployment and expect to more than triple our number of machines in operation this year."
Michael Coffey, chief strategy and innovation officer at Canteen NA says that Bake Xpress gives Canteen the ability to offer freshly-baked food around the clock to complement its staffed cafeteria services, and in locations where the company previously did not provide hot meals. "The ability to provide unstaffed food service has proven especially valuable during unpredictable COVID-19 quarantines and closures. We expect that Bake Xpress will continue to be a popular addition to our customers' breakrooms, lobbies and micro markets," Coffey said.
Bake Xpress micro-bakeries are unique robotic vending solutions that offer a variety of menu choices in each machine, ranging from croissants to pizza. Each food item is prepared and partially baked at a traditional bakery/kitchen before being stored in the Bake Xpress refrigeration unit and then freshly baked in Bake Xpress' smart oven at time of order. Bake Xpress owner/operators can specify the menu based on their customers' preferences, choosing from 25 artisan foods created in partnerships with suppliers nationwide. According to Bake Xpress, it is the world's only vending solution capable of providing customers with a full menu of hot pastry and meal options.
To see a demonstration of the Bake Xpress process, click here.
Bake Xpress was created when Herve discovered that after he moved to the US in 1998 he could not easily find the hot, crusty, aromatic baguette he remembered from his youth in France. This left him thinking of how to obtain freshly-baked French bread on demand. He coupled his cravings with decades of experience in engineering and entrepreneurship, leveraged existing manufacturing relationships and capabilities, and created the world's first robotic micro-bakery that baked the perfect baguette on demand.
Based on the enthusiastic reception of the baguette machines, Herve started working on how to extend the technology to other baked items.
Herve worked with chefs at La Boulangerie de San Francisco and Shaw Baker to develop recipes for a full range of French baked goods. Using the proven storage and baking technology in the baguette machines, Herve developed an inventory tracking and labeling protocol that allows each product's unique baking profile to be captured as well as remote machine inventory and usage tracking. He also redesigned the machines to be the size of traditional vending machines to allow machine operators to add a Bake Xpress machine without any custom wiring or other buildout.
The expanded Bake Xpress menu includes pastries as well as meal offerings like pizza, quiche, and a selection of hot sandwiches. The vending unit itself is upgraded to hold up to 70 individual food items and includes a large interactive touchscreen display that can be used for point-of-sale advertising as well as easy ordering.
For more information about Le Bread Xpress and the Bake Xpress machine, go to http://www.lebreadxpress.com, email info@lebreadxpress.com or call 650-996-4003.