hubz Smart Cooler Powers Operator Success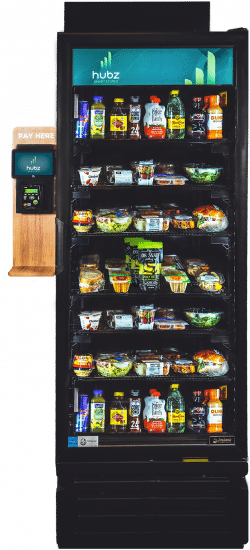 See the hubz smart cooler, an unattended retail point of sale solution, at NAMA 2021!
NEW ORLEANS, NAMA 2021 – hubz, a product line specializing in smart, unattended retail points of sale, announced the North American general availability of its new hubz Smart Cooler with plans to later expand to other global regions. The hubz smart cooler helps operators embrace the next step of unattended retail solutions by offering a secure way for food and beverage retailers to sell any product, anywhere, anytime. hubz was introduced to the retail market in December 2020 and, through field testing, has proven its benefits for retailers and vending operators. hubz is a partnership between smart retail leaders Parlevel Systems, Shekel Brainweigh, and Imbera Cooling.
"The hubz cooler allows companies to bring unattended retail into untapped locations – those of high traffic and highly transient customers, enabling a real time frictionless shopping experience and encouraging a flexible variety of product mix," said Udi Wiesner, General Manager of the Retail Innovation Division at Shekel Brainweigh. "Combining the functionality of intelligent vending and micro markets, hubz smart coolers help operators provide the ultimate customer experience and meet the growing consumer demand for fresh, healthy, and diverse products through unattended retail points of sale."
The hubz Smart Cooler enables operators to maximize product offerings and tap into locations that are underserved by traditional unattended retail like vending machines or micro markets. Through the hubz cooler, businesses can offer a selection of high margin, diverse products in a wide array of locations, such as office spaces, hotels, hospitals, transit stations, gyms, retail stores and more. The hubz cooler is highly secure and can only be opened when a customer presents a payment method.
"The versatility of the hubz Smart Cooler opens a world of new possibilities for food and beverage operators," said Alan Munson, Chief Commercial Officer at Parlevel Systems. "The smart cooler allows for the best of both worlds: the product diversity of a micro market and the security of a vending machine. Operators can expand their services into exciting, underserved locations and drive substantial growth for their business."
Powered by Shekel's Product Aware Technology – an innovative array of IoT load sensors and advanced machine learning algorithms – Parlevel's management system – a powerful combination of service efficiency, product sales, and planogram management tools – and Imbera's best-in-class cooler technology, the solution is truly smart. It detects exactly which product customers select and accurately charges them as they close the hubz cooler. While the hubz cooler is open, customers can easily browse food and beverage options, select multiple products and return previously selected items. Customers are informed of their selections in real time via an interactive touchscreen, charged the corresponding amount, and provided with a detailed receipt.
hubz coolers management tools drive businesses to operational excellence by maximizing inventory efficiency, optimizing service and increasing space-to-sales. Businesses can effectively manage their hubz hardware side-by-side with traditional vending machines, micro markets, and office coffee business lines.
The hubz smart cooler will be presented in the Parlevel Systems' booth #1412 and the Shekel Brainweigh/Hitachi booth #2220 at the NAMA show in New-Orleans taking place August 18-20.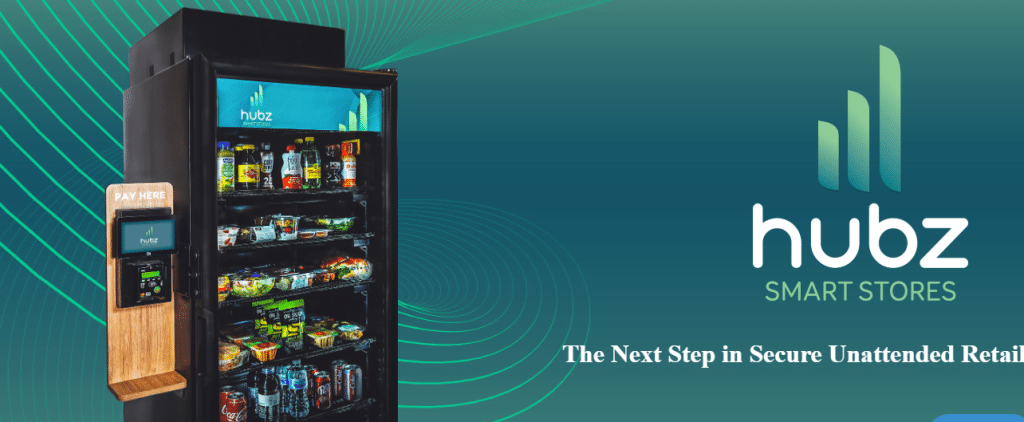 After NAMA, demos are available to customers by the partners, including at Imbera's Kennesaw, GA showroom facility. The hubz solution was awarded Intel Market Ready Solution recognition as part of Intel IoT Solutions Alliance. hubz is expected to continue expanding its product line of smart stores with innovations like smart cabinets, smart shelving units and hybrid solutions to offer businesses maximum versatility. The hubz product line helps businesses enter the smart unattended retail space with a small barrier to entry regarding low cost and swift training – leading to high earning potential, rapid ROI, and exceptional customer service.
For more information on hubz visit www.hubzstores.com/
About Parlevel
Based in San Antonio, Texas, Parlevel Systems delivers growth, savings, and control through the power of service and innovation. Founded by successful vending and technology professionals, Parlevel provides operators around the world with the tools necessary to succeed and better serve their customers. Parlevel utilizes customer support technology and a dedicated customer success team to ensure efficient implementation, training, and systems adoption. For more information on Parlevel visit https://www.parlevelsystems.com/
About Shekel Brainweigh
Shekel Brainweigh Retail Innovation Division, a young, innovative start-up, is part of Shekel Brainweigh Ltd., (ASX: SBW) an established holding company that includes Shekel Scales, a technology market leader providing more than 40 years of digital weighing solutions to the retail self-checkout market through industry leaders such as Fujitsu, Toshiba, Diebold-Nixdorf and others.
Shekel Brainweigh Retail Innovation Division provides Product Aware Shelves as the standard of choice for automated product recognition to scale up autonomous retail. Product Aware Technology transforms any retail shelf into a source of actionable insights using IoT load sensors and Artificial intelligence to identify a product by its weight and location on the shelf. Smart shelves, based on Product Aware Technology are an ideal solution to enable rich frictionless shopping, 24/7 availability, effective real-time inventory management, operational efficiency comprehensive data insights for smart vending, micro markets, autonomous micro stores and convenience stores.
To learn more about the company, visit https://www.shekelbrainweigh.com/retail/
About Imbera
Imbera is a world leader in the commercial refrigeration industry. Dedicated since 1941 to the design, development and manufacture of commercial refrigeration equipment, it is the only company with scope in the entire American continent that offers both the sale and the integral maintenance of commercial coolers. For more information, visit https://www.imberacooling.com/global/imbera