Embed Sponsors Foundations Entertainment U and Birthday U, Offers Scholarships
Dallas, TX, September 2016 – Embed reports a fantastic turnout at two of the industry's best training
seminars for which it is a sponsor: Foundations Entertainment University and Birthday University. The
pair took place back-to-back last month in Atlanta, GA.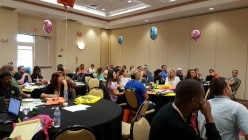 It was the 39th class for Foundations, a comprehensive educational workshop and seminar program
covering all aspects of planning, designing, developing and operating a location-based entertainment
business or family entertainment center (FEC) for long term success. The social dinner for the seminar
took place at Andretti Indoor Karting & Games in nearby Marietta, also a long time Embed system user.
Frank Price's Birthday University has toured internationally for over 16 years and successfully trained
thousands of owners, managers, supervisors, marketing/sales and party hosts in the business of
remarkable and profitable birthday party programs. Last month's gathering brought together a diverse
group of people ranging from those still in the planning phase of their business to those that have been
in operation for many years.

Embed is offering a limited number of full scholarships for the next Foundations Entertainment
University, which will take place October 18-20 in Phoenix, AZ. Contact Embed at
sales@embedcard.com if you would like to attend this comprehensive workshop on us.
For more information about Foundations Entertainment University, visit
www.foundationsuniversity.com. For more information about Birthday University and to see next year's
workshop schedule, visit www.birthdayuniversity.com.
About Embed
Embed, a subsidiary of out-of-home entertainment leader Helix Leisure, provides total operating solutions
for any entertainment facility, by utilizing their robust understanding of the industry which stems from
over 55 years of operating experience. With offices in the USA, UAE, UK, Singapore, and Australia, they
are committed to delivering seamless and elegant user experiences for their customers, backed by classleading
customer support. Embed Systems allow for admissions control, machine monitoring, cashless
operation of games and attractions, retail, food and beverage sales, loyalty systems, full prize redemption
management, and integrated event scheduling. For more information, please visit www.embedcard.com.
Follow Helix Leisure on LinkedIn for more updates: https://www.linkedin.com/company/helixleisure
---

| Home | Vending Technology News | More News | Vending Newsletter sign up | Questions? Contact us | email press release |
Also See: Amusement Games | Redemption | FEC |