ZEST Sparkling Teas, With 150 mg Of Caffeine Per Serving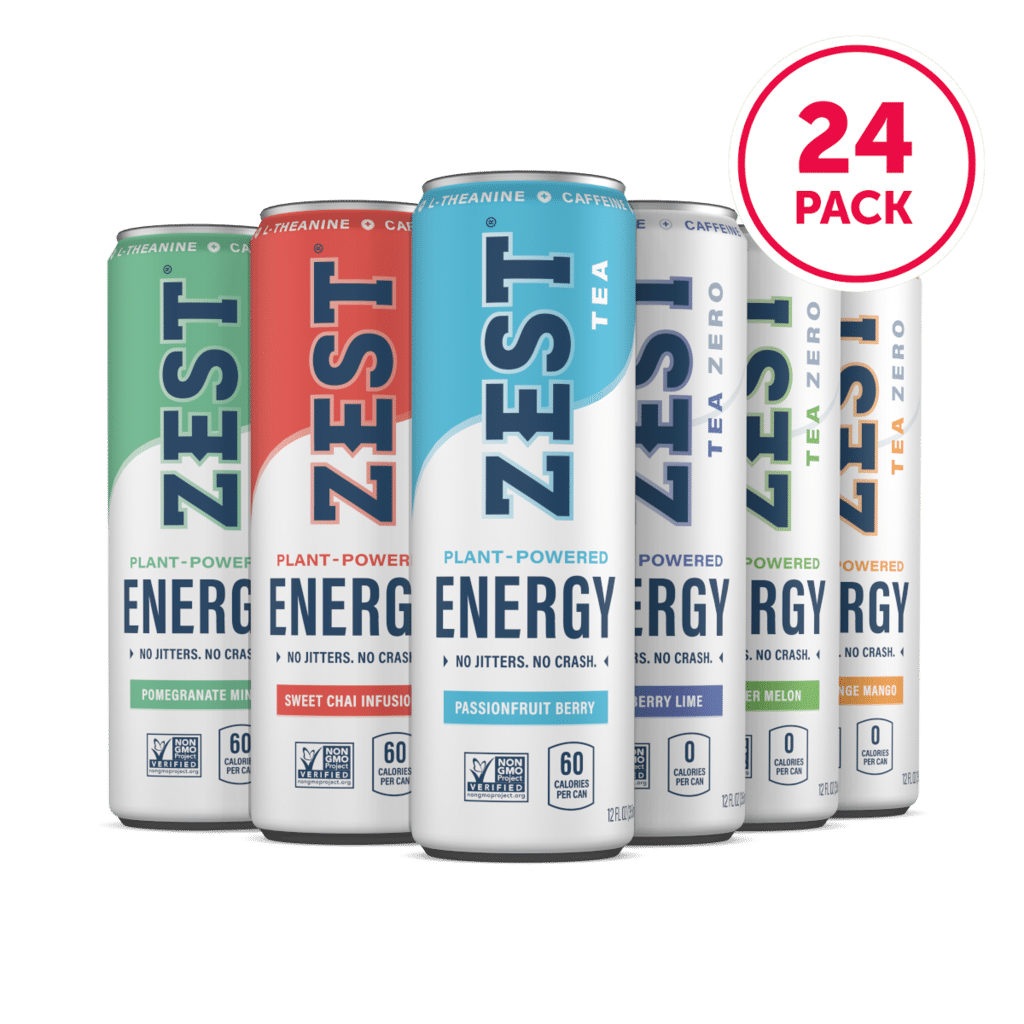 Made with no artificial flavors or preservatives, ZEST Sparkling Teas are also gluten-free, GMO-free, plant-based, and what's most ideal is that each can contain 150 mg of caffeine, making them a tasty beverage that also offers plenty of caffeine.
Unlike some bottled or canned teas on the market today, ZEST Sparkling Teas are never boring and they offer six flavors to choose from including Spiced Chai Infusion, Passionfruit Berry, Blood Orange Mango, Cucumber Melon, Blackberry Lime, and Pomegranate Mint.
Low Sugar & Low Acid
Besides offering a variety of flavors to choose from, these teas are also an excellent beverage for anyone who is searching for alternatives to their favorite caffeinated beverages because ZEST teas are also low-sugar and low-acid alternatives.
With brain-boosting nootropics, L-Theanine, and B vitamins in each serving, these teas are also an excellent coffee replacement because ZEST Sparkling Teas provide plant-based energy that won't leave someone with jitters or a crash after they have enjoyed one.
ZEST Sparkling Teas also have just 60 calories per serving because, the calories come from natural cane sugar, not chemicals or man-made sweeteners like other energy drinks.
An Ideal Mid-Afternoon Drink
These sparkling teas are different than commercially available energy drinks because they provide an ideal KETO friendly option that can be enjoyed 24-7, especially while someone is at work, studying, or before a workout 
As many consumers typically check their closest vending machine or micro-market by mid-afternoon, ZEST Sparkling will surely attract their attention since most consumers who enjoy caffeinated beverages will want to try the plant-based energy that ZEST offers them.
ENERGY: Up to 150mg caffeine = 3x regular tea
FOCUS: 40mg L-Theanine = no jitters, no crash
HEALTH: Natural, Non-GMO certified ingredients
To learn more about ZEST Sparkling teas, visit their website at http://www.zesttea.com.