Vita Coco – Coconut Water With MCT Oil And Caffeine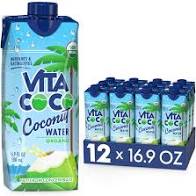 In 2021, most consumers want an energy boost at the end of the day, or before their next workouts, but they don't want to drink coffee or soda. Vita Coco fills a void in the energy drink market because it's a satisfying blend of coconut water, B vitamins, potassium, and coconut cream that's mixed with MCT oil and 40 mg of caffeine from tea. 
This beverage is sure to appeal to any consumer who wants an energy boost but doesn't want to deal with the effects that coffee or soda has on their bodies. At 130 calories and 8 grams of sugar per serving, Vita Coco comes in three café-inspired flavors including coconut chocolate, chai, and vanilla latte.
An Ideal Energy Drink For Energy And Focus
With Vita Coco, consumers get more than just an energy drink because MCT oil, one of the primary ingredients of this drink, also has a wide variety of health benefits that aid in everything from mental clarity to weight loss. Although many consumers enjoy Vita Coco as a standalone energy drink, it can also be enjoyed as an additive to coffee or smoothies.
A Better For You Energy Drink
If you read the labels of most energy drinks, you will see that they often have a high amount of sugar and some ingredients that are often hard to pronounce. Thankfully, with Vita Coco, this gluten-free energy drink has all-natural, non-GMO ingredients but what's best of all is that it also doesn't contain any carrageenan or added sugar, and it's also soy-free, lactose-free, and dairy-free as well.
Vita Coco comes in convenient 16.9-ounce cartons and sells for $3.29 per carton. To order Vita Coco, visit their website at https://www.vitacoco.com.