Smart Hamburger Vending Machine by Botast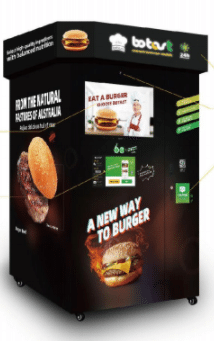 Botast has released a new vending machine that will revolutionize the food industry and prove to be a great asset in convenience micro markets and vending machines located in airports, breakrooms, casinos, corporate offices, hotels, hospitals, schools, manufacturing plants, shopping centers, senior centers, etc., particularly during the current pandemic.  
The Botast Smart Burger Vending Machine dispenses hamburgers on the spot using innovative technology and a smart terminal.  The company says its technology improves food safety and quality while boosting sales. 
In today's society, people are relying more on technological advances which improve convenience and efficiency. In addition, with the current market, especially with the strains that COVID-19 has recently put on businesses in the food service industry, not all business locations are able to stay open 24 hours a day to meet the demands of customers. Food safety is also a major concern right now for many customers. 
This Smart Burger Vending Machine uses smart sales terminals and Internet remote control to meet the consumers' demands for both convenience and speed. At the same time, it guarantees food safety through the tracking of food ingredients and the process of cold-chain distribution. Particularly in this time of social distancing and trying to flatten the curve of COVID-19 cases, this vending machine is one of the "safest food solutions" out there, as there is no need to come into close contact with anyone, and all food is made on the spot and wrapped properly before the customer retrieves it. 
FEATURES OF BOTAST SMART BURGER VENDING MACHINE: 
24/7/365 Unmanned Operation of Machine

 

Aseptic Cold/Frozen Storage

 

Up to 60-Second Heating Efficiently

 

Cloud Data Real-time Monitoring Systems

 

Big Data in the Cloud monitors, analyses and controls at all times

Cold-chain delivery throughout whole process

App for machine locations, placing orders and more

 

Maintains food safety and quality

Saves businesses on the cost of labor and 24/7 operation

Ideal solution for food businesses and customers alike during the pandemic

 
About Botast LLC
Botast LLC specializes in vending machines and commercial food and beverage equipment from China which are assembled in the USA.  The company says its competitive advantage is improving sales and lowering costs, especially in the current state of the food service market.  The company says it is pursuing supplier relationships with large nationally-branded food manufacturers to customize machines to their specialty products, allowing companies to brand machines with their own product lines.  The company's technology and products are patented, and it is now pursuing relationships with not only the consumers and individual food related stores/machine operators but also food and equipment manufacturers to customize machines to their specialty products, allowing these companies to brand machines with their own product lines.  Visit www.botast.us
For more information contact:
Kim, Product manager,  626-673-2672, Kim@homeparadiserg.com
Botast Hot Food Vending Machines
SMART HAMBURGER VENDING MACHINES!! Botast LLC specializes in the design and production of high quality Hamburger Vending Machines. Its competitive advantage is unmanned, fully automatic and cloud technology to control logistics and distribution, which increases sales, extends business hours, and reduces costs; it also brings great safety and reliability to the burgers it sells, especially in the current market conditions during the epidemic. We are penetrating the vending industry with innovative, first to market, high quality vending machines. The company's technology and products are patented (watch our video Botast One-minute Ad ). BOTAST's mission is to be the leader in introducing innovative and quality smart hamburger vending machines to the entire USA market. Visit www.botast.net.
Click here for Botast Hamburger Vending Machine FACT BROCHURE.