Perfect Snacks – The Company Behind Perfect Bar
Bud Keith was a pioneer in the West Coast health and wellness scene in the 1980s when everyone was interested in working out, eating better, and looking better. He started Healthouse, a gym and juice bar in Mission Beach, California, where everyone from surfers to businessmen could workout, and learn more about his health food supplements, omega oils, and other products that they could use to build the best health possible.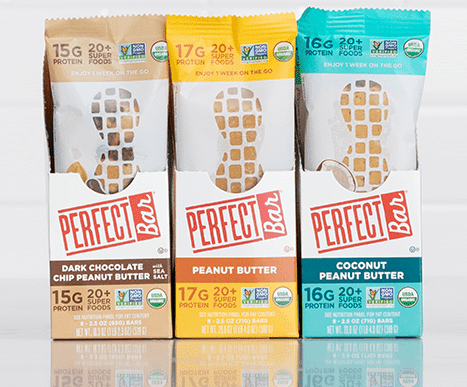 Following the success of Healthouse, Bud hit the road and traveled the country in a motorhome with his family as he shared his health and wellness wisdom. During his time on the road with his family, Bud created a recipe for a peanut butter-based protein bar that his kids would come to know and enjoy.
The Protein Bar That Many Said Was 'Doomed To Fail'
Bud spent years on the road with his family of 13 children, by 2005 he was diagnosed with skin cancer and soon found himself back at home fighting for his life. With little money to support his family, or continue his cancer fight, his children banded together and launched a business to bring their dad's vision of the perfect protein bar to the masses.
His children created Perfect Snacks, a company dedicated to producing healthy snacks made from clean ingredients. Their first product was Perfect Bar, a protein bar that's based on their dads original protein bar recipe. It was classified as being 'doomed to fail' by marketing experts because, unlike other protein bars, this bar has to be refrigerated and some companies said that the idea would 'never work'.
After hard work, determination, and a little luck, Perfect Bar started to attract the attention of major grocer brands like Whole Foods and Costco, then venture capital funding, Perfect Snacks became a successful company with over $100 million in sales per year.
About Perfect Bar
More than 15 years after launching their business, Perfect Snacks is still bringing Perfect Bar to the masses because fast, convenient foods, that are also better for you, are more in demand in today's world than ever before.
Perfect Bar lives up to its title because this protein bar only contains healthy ingredients, is high in protein, has great fiber, and you can enjoy it without having to wonder if you're consuming something that's going to have artificial ingredients.
To learn more about Perfect Snacks, and their wide variety of healthy, refrigerated snacks, visit their website at https://perfectsnacks.com, or Call (866) 628-8548, email bill@perfectsnacks.com.