Oscar Mayer Meat & Cheese Plates
The Natural Way To Snack, Even While On The Go.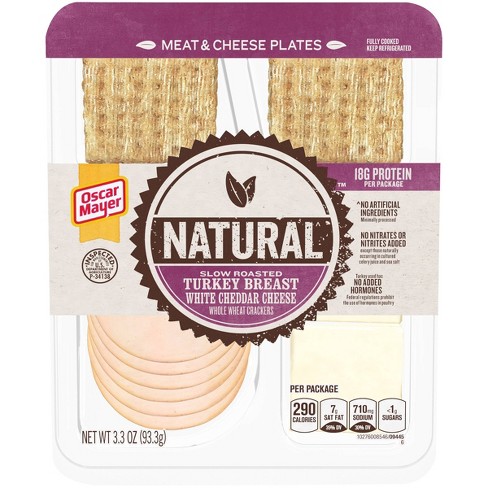 Oscar Mayer's meat & cheese plates offer an all-natural snack that also provides consumers with 17 grams of protein per serving. 
These meat & cheese plates will appeal to your customers because they only contain slow-roasted turkey, white cheddar cheese, and whole wheat crackers.
With more people eating on the go these days, Oscar Mayer's Meat & Cheese Plates fill a void in the diets of most consumers because it makes it possible for people to get the protein and calcium that their bodies need, even while they are on the go.
A Healthy Snack, From A Name Consumers Trust
In today's world, trust matters, especially when it comes to snack foods, because, people want to have peace of mind in knowing that they are eating something good for themselves and won't damage their bodies later on.
When a consumer chooses an Oscar Mayer Meat & Cheese plate, they can enjoy a healthy snack, made by a company that's been one of America's most trusted brands since 1873.
In the 2020s as more consumers are demanding healthier snacks, Oscar Mayer has been at the forefront of releasing healthy snack foods that nourish and taste great at the same time.
Learn More About Oscar Mayer's Meat & Cheese Plates
At only 290 calories per serving, this healthy snack that's made by Oscar Mayer provides a satisfying snack that can be enjoyed anytime, regardless if they are at work, school, or heading off to their next appointment.
To learn more about Oscar Mayer's Meat & Cheese Plates, visit their website at https://www.oscarmayer.com/.