Lucie's Hoopie Pies, Grab N Go Snack Cakes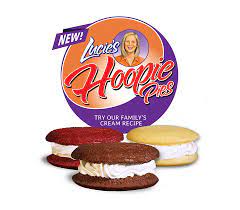 Snack cakes will always be a favorite snack food of most consumers because there's nothing better than to enjoy a moist piece of cake but, few cakes can be enjoyed while on the go.  With Lucie's Hoopie Pies, anyone can enjoy cake wherever they are because they are the ultimate Grab N Go snack cakes that are made with a cake top and bottom that's stuffed with a delicious cream filling. 
Lucie's is two pieces of really moist cake filled with a cream filling that was created unlike anything you've ever tried. Its not a sweet icing or a marsh mellow filling. Lucie's cream is a smooth, cool cream made with butter and milk that combined with the moist flavorful cake makes the perfect "on the go" desert or snack.
Don't Miss These Grab N Go Snack Cakes
Thanks to recent data from Statista, we know that more than 137 million Americans consumed ready-to-eat snack cakes in 202 and that figure is only expected to rise in the coming years. If you've been searching for a unique snack cake to offer to your vending or micro-market customers, Lucie's Hoopie Pies may be the right treatment that you've been searching for because these cakes are delicious and taste like they've been homemade.
About XLNT Bakeries
Produced by Winston-Salem-based XLNT Bakeries, Lucie's Hoopie Pies is based on a family recipe that their founder, Lucinda, often made for her family for family and friends. Once people realized that her pies weren't just delicious, but also easy and convenient to enjoy, XLNT Bakeries was launched so that they could produce her delicious snack cakes for consumers everywhere.
Lucie's Hoopie Pies are the first of many new and exciting products from XLNT, and its evolution as a XLNT product illustrates our unique approach. Lucie's has been a family recipe (and secret) for almost 30 years and the combination of its moist cake and unique cream is unlike anything available in the marketplace today. We didn't invent Lucie's, but we're proud to bring her amazing snack cake to you and your customers.
Be sure to try a Lucie's Hoopie Pie today and look for more new and unique products from XLNT in the months to come. For more information visit https://xlntbakeries.com or call 980-247-4667.