High Tech Micro Bakeries Offer Artisan Vending Food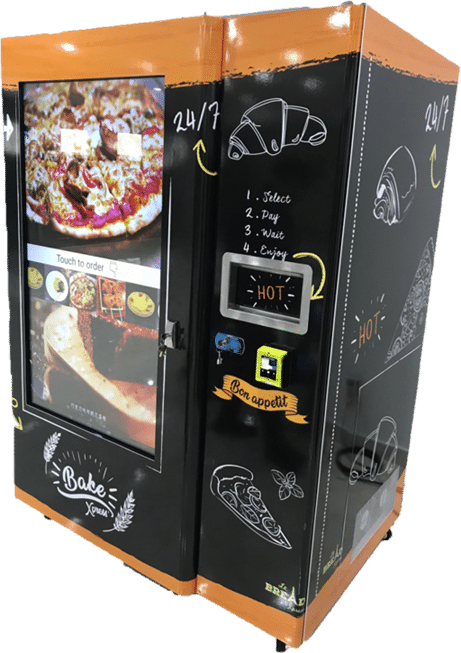 Bake Xpress Robotic Micro-Bakeries: The High-Technology Future of Food Vending.
Bake Xpress micro-bakeries by Le Bread Xpress are the only vending solution on the market to offer a wide menu of artisan food fresh-baked to order including sweet pastries and savory meals like calzones, sandwiches and pizzas.
Integrating refrigeration and quick bake capabilities in a compact unit with the same footprint and electrical connections as a traditional vending machine, Bake Xpress can be installed with no custom build-out or wiring required.
Included desktop and mobile software allows machine operators to remotely track, manage and optimize inventory and machine operation in real time via an integrated wireless connection.
The combination of innovative food delivery with the latest technology allows Bake Xpress owners to bring the future of vending to locations such as office or factory breakrooms, hospitals, universities, transportation hubs and hotels that do not have staffed cafeterias available at all times.
Units include refrigerated storage racks where up to 70 partially-baked items (with up to 6 choices per machine) are stored prior to order, with unique barcodes that provide custom baking profiles and inventory tracking.
Customers place orders via the 55" touchscreen which displays available products, pricing & nutrition information and order status. Part of the screen may also be used for advertising, providing an additional possible revenue source. Custom branding is available.
Upon order, the Bake Xpress robotic system selects the item from inventory, transfers it to the oven and calibrates the dual-technology infrared and microwave oven to the custom baking profile of the item.
After baking, the item is boxed and delivered to the customer hot, fresh and ready to enjoy.
The machines include an integrated Nayax VPOS Touch payment system, accepting payment via swipe, chip and contactless credit and debit cards, prepaid cards, mobile payments, bank wallets, QR code payment apps and NFC mobile wallets like Apple Pay, Android Pay & Google Pay.
Menu items usually range in price from $3 to $8. Items are kept frozen until stocked in the machine's refrigerated storage rack. Shelf life is typically up to five days, depending on the item. Food safety is addressed through proper handling during preparation, shipping and stocking, individual packaging, refrigeration and the baking process.
Le Bread Xpress partnered with renowned pastry chefs and traditional bakeries to develop recipes, test products and define each product profile ensuring consistent, high-quality finished products are available through national distributors. The licensing agreement with Le Bread Xpress provides access to this established supply chain as well as ongoing technical support and training.
With a full menu of hot, fresh, artisan menu items in an intelligent robotic vending unit, Bake Xpress is a significant upgrade to traditional vending, especially in the socially-distanced world where unstaffed options are increasingly attractive.
Contact Le Bread Xpress to purchase or lease Bake Xpress micro-bakeries.
650-996-4003, info@lebreadxpress.com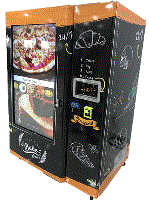 Bake Xpress Specifications:
Height: 1920 mm (75.60 in)
Width: 1405 mm (55.32 in)
Depth: 977 mm (38.47 in)
Power: 220V – 50 Hz 1 Phase, 18 A (30 A Max)
Data: 4G/Wi-Fi/Wired