Grasshopper Pay™ Kiosks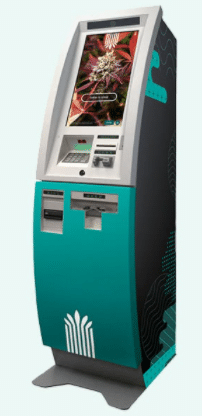 Grasshopper Pay™ is a secure, compliant self-service payment solution that enables customers to efficiently shop, order and pay. Once a transaction is complete, the order can be picked up from a Grasshopper Kiosk™ or the dispensary customer counter.
Grasshopper Pay™ also serves as a means to pay for items pre-ordered via Grasshopper Mobile™, enabling quick retrieval from Grasshopper Locker™. In addition to cash, it can accept credit/debit cards and function as an ATM, bill payment or bitcoin kiosk.
Self-service application – The Grasshopper Pay™ is the perfect platform to deliver added convenience to your customers. It features a modern profile and includes a large 21.5" vertical touch screen to attract and engage the customer with your Brand.
Interface components – Components include a card reader, 3" receipt printer and PCI-certified keypad useful for a variety of financial transactions. This kiosk can be configured with bill acceptors, check imager, bar code scanner, ticket printer, cash dispenser, finger printer and more.
They can also help to integrate most any custom components your
application may require.
For more information visit https://grasshopperkiosks.com/, Call: 877-828-3879.