Featuring Oklahoma City's K&K Vending, Family Owned
K&K Vending is truly a family business. It's very name symbolizes the most precious part of our family, our two daughters Kenzie and Kira. In 2012 when we first thought about starting a vending company in the OKC area we wanted to highlight our strong sense of family and the values that family holds into our company. We wanted the name to be a daily reminder of what is important and the reasons why we work so hard.
K&K Vending was started in 2012 after talking with an older gentleman in Oklahoma City who had health issues and was looking to sell his quarter candy machines. We were looking to supplement our income as a high school teacher/coach and a social worker, and this seemed like a fun way to help. Immediately we were hooked. People were excited to see the "Candy Man" and we realized that it provided a great service, made people happy, and was profitable for our family. Soon after we began to look at larger drink and snack machines to provide further service to our customers. Robert quit his job as a teacher and worked full time on the vending business and we have never looked back.
As loyal former patrons of vending machines around the Oklahoma City area we felt the main things we wanted from those machines was that they be full of our favorite snacks and drinks, work properly and be clean. When we bought our first soda and snack machines that were already on locations in El Reno and began to service them. It became clear that the previous owners did not take good care of them. We received endless complaints about the machine being empty and that they did not work properly. What had we gotten ourselves into?
The only thing we knew to do was immediately get to work and try to win back their trust. Day after day we worked hard at providing great service. If problems did occur with the machine we fixed them immediately, usually within the same day. We kept the machines full and offered new products. As the machines were serviced week after week with care we began to build that trust and starting receiving several compliments. Now 6 years later we are proud to say that we still hold almost all of those accounts. Maybe we were good at this vending thing?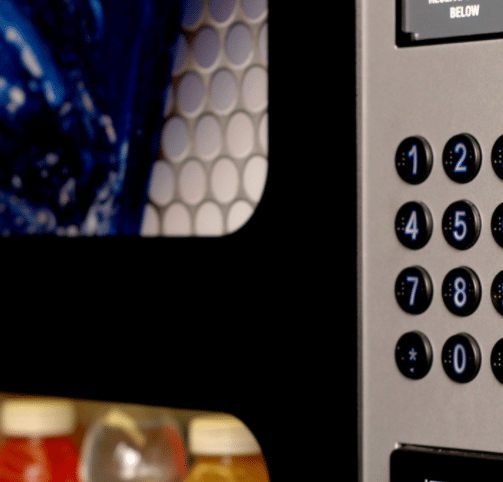 Today we have expanded to serve vending machines all over the OKC metro area. Not only do we provide great service but can do so at the lowest price guaranteed. We wanted to provide options by adding credit card readers to all of our machines and to accept both $1 and $5 in our machines, with some accepting higher denominations. Also we implemented the guaranteed vend technology on most of our machines to stop the dreaded snack that gets stuck on the spirals. Our selections have increased to include both healthy and classic options to fit the needs and wants of everyone not just some of the users.
Our main focus as a company is to continue to provide what our customers want. We listen to our customers and do everything we can to accommodate what they want from their vending machines. Our philosophy is to treat everyone like friends and family and hopefully make their days a little bit better.
K&K Vending is our family. Together we share many memories working in this business. Our girls love to prepare the candy for deliver and often try some just to make sure its good. As they get older it is are hope to teach them so many things from this business like working hard, treating people with respect and kindness, dealing with money and finances, organizing, and so much more. Before you know it K&K will be running the business. Hopefully with their own families.
Products 
We at K&K Vending carry a lot of vending products for everyone's tastes and needs of the people of OKC.  We are always adding new products to meet our customers' needs and wants.
Traditional Snacks
No vending machine is complete without the traditional vending snacks and drinks. We can fill up your break room with the classic vending products such as Cheetos, animal crackers, Oreo's, and more.
Healthy Snacks
Keep all your potential guests and workers happy with healthy vending options. K&K Vending will stock your vending machines, pantries, and micro marts with snacks such as protein bars, breakfast bars, juice, and other low-calorie options.
CONTACT US for more information about our vending products! Call 405-529-5684.