DUKE's Smoked Shorty Sausages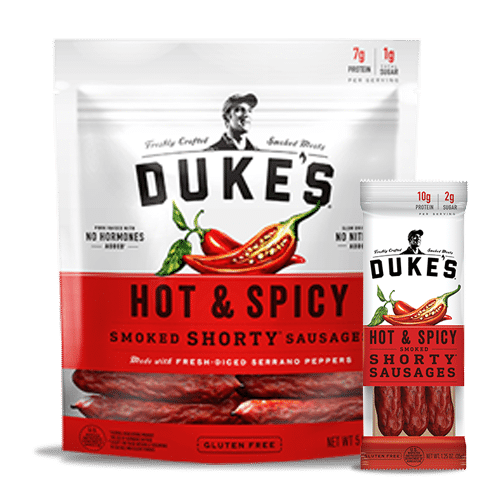 Protein is something that most people are not getting enough of in their diets today, and the average consumer is going to be looking for a healthy way for them to consume the protein that their bodies need.
Thanks to DUKE's Smoked Shorty Sausages, it's easier than ever before for anyone to add more protein to their daily diets because these smoked sausage links are packed with 7 grams of protein, 1 gram of sugar per serving, and contain all-natural ingredients.
With DUKE's (No MSG) Smoked Shorty Sausages, anyone who enjoys beef jerky will also enjoy DUKE's because these sausages are slow-dried and processed using real, whole ingredients instead of preservatives and ingredients that can't be pronounced.
About DUKE's Shorty Sausages
Founded in 2004 by Justin "Duke" Havlick, the company continues with Duke's same original vision of producing sausage snacks that are made from 100% grass-fed beef, flavorful ingredients, and creative smoke parings.
Besides offering a healthy source of protein, these sausage snacks are never boring either since DUKE'S offers a variety of flavors Brisket Chipotle BBQ, Hatch Green Chile plus Chorizo & Lime.
Since launching their award-winning protein snacks, the company has also branched off into producing meat and cheese trays as well.
In the age of Atkins and other protein-rich diets, DUKE's Shorty Sausages fits an immediate need by delivering a healthy dose of protein while also tasting delicious at the same time.
To learn more about DUKE'S Shorty Sausages, visit their website at https://dukesmeats.com.