CELSIUS Intros New Flavor Tropical Vibe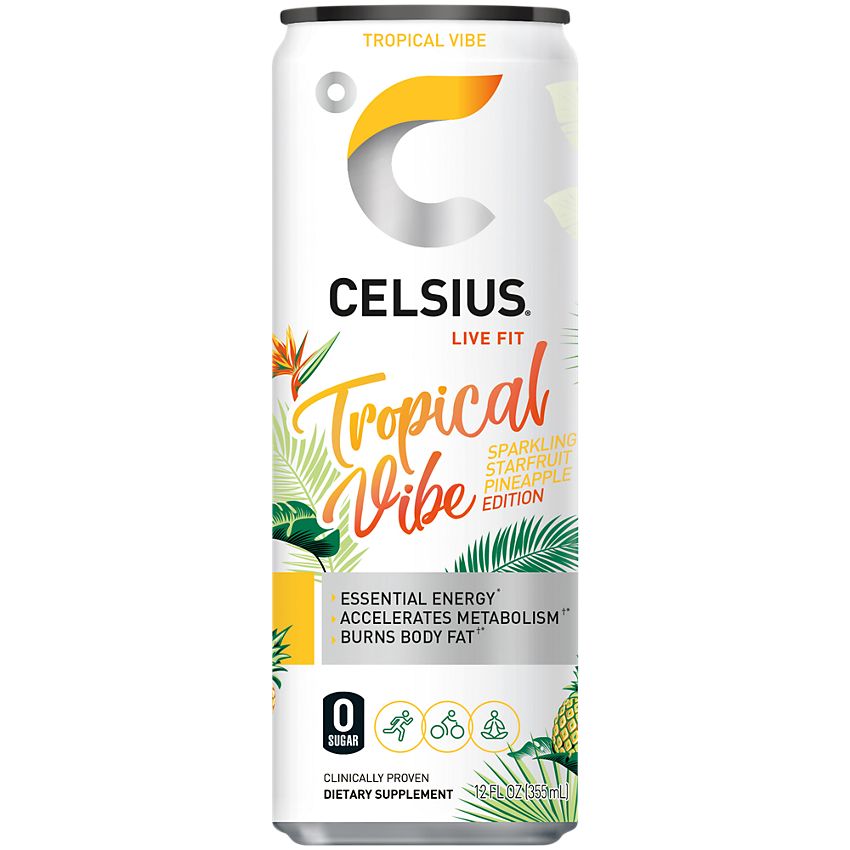 Consider offering your vending or micro market customers Tropical Vibe, the latest energy drink by CELSIUS.
Made with Starfruit Pineapple, Tropical Vibe is an energy drink that's ideal for summer because its sweet, tastes great chilled, and doesn't contain any preservatives, artificial colors, or sugar.
This CELSIUS energy drink also contains seven essential vitamins as well, and this makes it ideal for a mid-afternoon energy drink, or a hydrating beverage that can be enjoyed before working out.
Essential Energy With Zero Sugar
One thing that most energy drinks on the market today have in common is that they all have at least 20 grams of sugar, and are made with artificial flavors/preservatives.
With CELSIUS energy drinks, consumers have peace of mind because the company has a long history of producing energy drinks that are better for the body and made from natural ingredients.
Besides having 7 essential vitamins, this energy drink also contains Green Tea Extract, Guarana Seed Extract, Ginger Root, Vitamin B, Vitamin C, and Chromium, an essential mineral that's also been proven to be beneficial at helping metabolism and weight loss.
An Energy Drink That Can Be Enjoyed Anytime
Made by Florida Based CELSIUS, people who try their Tropical Vibe energy drink will have peace of mind in knowing that they are consuming an energy drink that will provide them with sustainable energy which will help them to reach their goals.
Like the other energy drinks in their product line, CELSIUS energy drinks are also gluten-free, non-GMO, kosher and they don't contain any aspartame or high fructose corn syrup!
For more information about Tropical Vibe by CELSIUS, visit their website at https://www.celsius.com.