Bang® Releases The First Key Lime Pie Energy Drink
Key lime pie in a can? Yes, please! Bang® energy drinks have released another winner with their key lime pie flavored energy drink and what's even more ideal about this energy drink is that it doesn't just taste fantastic, it's also good for you too since it contains nine essential amino acids.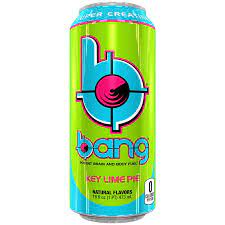 Retailing for $1.98 per 16 ounces can, their key lime pie energy drink is a hit with energy drink fans.
A Taste Of Key Lime Pie In Each Drink
What's different about Bang's key lime pie energy drink is that this drink doesn't just taste like key lime pie for only a couple of sips, this energy drink offers a long-lasting flavor that doesn't disappoint.
Bang ® is different than other energy drink companies on the market today because the company always attempts to 'over-deliver' on their energy drinks and their key lime pie flavor certainly meets expectations. 
Since hitting the energy drink market, fans around the world have been writing rave reviews about this new flavor, especially on Tok-Tok, where it has more than five billion views and rave reviews from people who enjoy it.
About Bang Energy Drinks
Bang Energy Drinks have a long and successful history that dates back to the early 1990s when Jack Owoc released his first energy drinks with the goal of producing great products that provide long-lasting energy.
More than 20 years later, Jack and his team are still one of the top companies in the energy drink market as energy drinks are consumed by more people now than ever before.
Their key lime pie energy drink flavor was recommended by Jack Owoc's wife Meg, who as marketing director of the company thought that this flavor would be an instant hit, and she was right.
For more information about the new key lime pie flavored Bang Energy Drink, visit their website at https://bangenergy.com.