Azkoyen Intros Vitro X1 MIA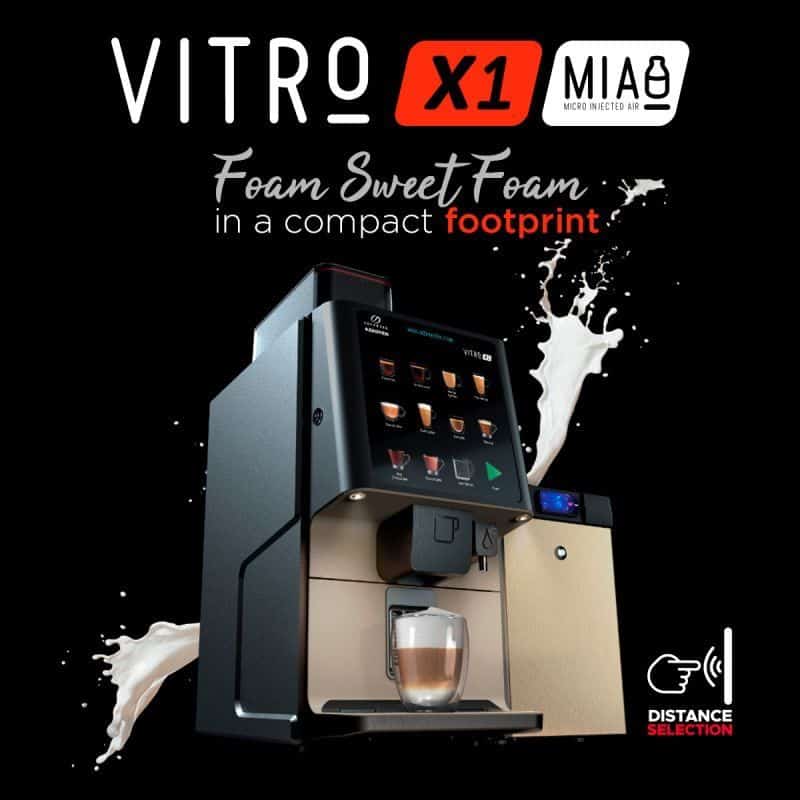 Announcing the Azkoyen Vitro X1 MIA automatic coffee machine. This compact, and elegantly styled coffee machine, is more than just a machine that brews coffee, it offers a user 'experience' because it also includes a fresh milk system that enables users to make the same quality coffees that they can buy from their neighborhood coffee shop. 
About The Vitro X1 MIA
Developed by engineers who spent years creating the most efficient coffee machine, the Vitro X1 MIA offers all of the features that a coffee-loving consumer could want.
If the customer wants a coffee, espresso, cappuccino, latte macchiato, or milk drink, the Vitro X1 MIA can provide. It is more than just a traditional coffee maker, it's a machine that essentially functions as a 'robotic barista' 24-7.
Uses Plant–Based Milk And Clean Hot Water
In 2021, most consumers want to have confidence that they are ordering coffee drinks that are made with plant-based milk and clean hot water.
The good news is that consumers who order coffee from this patented coffee machine can have peace of mind in knowing that the ingredients used to make their coffee from the Vitro X1 MIA are indeed plant-based and clean.
With the global demand for coffee drinks only increasing by the year, Azkoyen continues to excel because the company produces user-friendly coffee machines with a wide variety of accessories and payment options.
Can Make Up To 150 Cups Of Coffee Per Day
Vitro X1 MIA has been created to handle the demand for up to 150 cups of coffee per day and this means that it's an ideal coffee machine for offices, convenience stores, service stations, hotels, or wherever there's a demand for coffee nationwide.
To learn more about Vitro X1 MIA website at https://azkoyenvending.com.