Alden's Organic Now Offers Single Serve Ice Cream Bars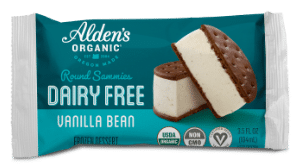 Alden's Organic, a top seller of organic ice cream bars, recently announced that they will be offering their popular ice cream bars in single serve packaging to be sold nationwide.
The Eugene Oregon-based company specializes in selling organic ice cream that come in a variety of flavors including, vanilla and fudge. All of their ice cream bars are gluten-free and contain natural ingredients like fresh organic cream and natural coca. Their ice cream bars are popular with people of all age groups.
With Alden's Organic ice cream bars, consumers who enjoy them can have peace of mind in knowing that the ice cream bars that they are consuming are all natural. Besides being 'better for you', these organic ice cream bars also are low in calories so consumers can enjoy them without feeling guilty about breaking their diets because each ice cream bar that Alden's produces is under 200 calories.

As the demand for snack foods has increased worldwide, so has the demand for single-serve ice cream bars. This has helped companies like Alden's expand into new markets plus potentially reach consumers who might not be aware that their brand exists.
In 2021, more consumers want to eat healthily but they also want to enjoy delicious chocolate treats every once in a while.  The ideal thing about Alden's ice cream bars is that the company offers something for everyone because most consumers will either want to enjoy their fudge or ice cream sandwich bars.  Summer is fast approaching, don't miss your chance to offer these ice cream bars to your customers. 
For more information about Alden's Organic ice cream bars, visit their website at www.aldensicecream.com.