USI's Evoke Coffee Vending Machine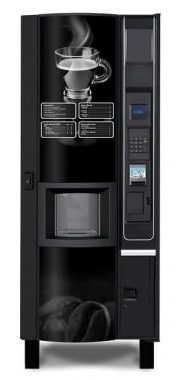 Thanks to the Evoke Coffee Machine, it's now possible for you to offer your office coffee clients a barista-style cup of coffee right from their office.
This coffee machine features a stylish design and state-of-the-art blending system that will dispense more than just a typical cup of coffee.
The Evoke Coffee machine will dispense superb quality coffee that tastes great, has a fabulous aroma, and best of all has excellent color and appearance.
Evoke Offers 11 Core Hot Beverages And 34 Combinations Of Coffee
Even though the average office coffee drinker loves their coffee, they also enjoy tea, hot chocolate, and other beverages as well.
When you place this coffee machine in an office, coffee drinkers are not faced with only being able to drink traditional black coffee, they can also choose specialty coffees like cappuccinos, teas, espressos, and hot chocolates.
In total, this machine offers 11 core hot beverages, and 34 hot beverage combinations! That's an ideal asset to any office because the average coffee machine these days can only dispense just coffee or hot water.
European Coffee Experience
At only 72 inches tall and 27.5 inches wide, the Evoke Coffee machine will be the right fit for any office breakroom and since it holds up to 400 (7 ounces) cups, you can count on it offering your office coffee clients tremendous ROI daily.
Made by Des Moines, Iowa based U-Select-It, the Evoke Coffee vending machine will be a good fit for any office, especially since more people are coming back to the office following the pandemic, and they will be drinking coffee.
To learn more about this coffee machine, visit their website at https://www.uselectit.com or call (800) 247-8709.