SecuraStock, Automated Inventory Management​​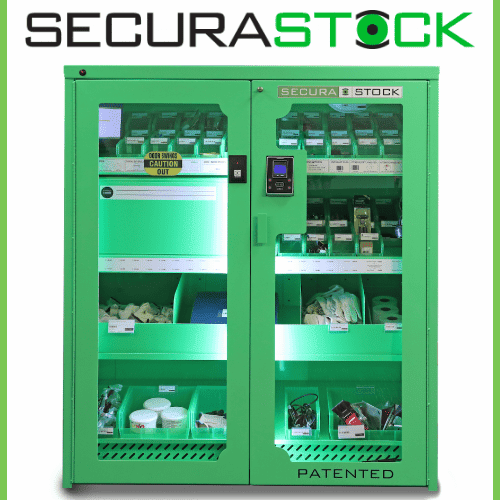 SecuraStock was founded by a team of distribution professionals who knew there was a better way to manage inventory. Their designs reflect years of in-depth user analysis and research to determine the most accessible, affordable and easiest to use machines – for everyone.
Their products and technology are designed to drastically reduce costs, streamline your operations and optimize cash flow. Everything is fully integrated, automated and comes with a 3-year guarantee, so you know your inventory is secure.
Today, they boast the only fully patented vending system in the world and one of the most powerful, proprietary software systems in the industry.
High Capacity & Industrial-Grade Performance​
Stored up to 250 SKUs and thousands of individual pieces with controlled access entry system, 4 cameras, DVR, Cloud storage.​ Line of sight access to all materials.
Save Time & Money​
Lowest dispensing cost per SKU: 50-70% lower than other machines; does the job of 2-4 traditional machines.​
Unlimited virtual, On- Demand Reporting
All activity recorded & integrated instantly by transaction; Automated product calibration and expiry date tracking; Seamless ERP & web system integration.
Most Secure
Cameras and patented software safely secure all your inventory – they guarantee it. Really. They're so confident in the security of their products that they'll pay for any theft experienced or offer a full refund.
For more information visit https://securastock.com/secura-stock/, 1-844-732-8727, sales@securastock.com.