SandenVendo G-Snack Slave Edition Goes Outdoor!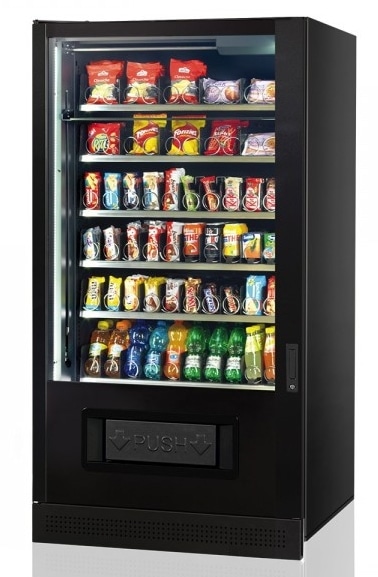 SandenVendo is thrilled to announce the new, first on the market, Outdoor SLAVE edition of the G-Snack vending machine.

Expand your outdoor vending business with this Slave machine: equipped with 10 selections per shelf, G-Snack Design and Standard SSX enables you to provide your customers with up to 70 product selection.

G-Snack SLAVE outdoor edition can be combined with G-Drink and G-Snack OUTDOOR models, without worrying about harsh weather or vandalism. This machine has a temperature range between +2°C to +18°C.  Get the new G-Snack Design Slave Outdoor edition.
Engineered to function with any G-Caffè, G-Drink and G-Snack master machine model that holds the selection panel and a single payment system, G-Snack Design Slave is the refined, hi-tech vending solution that will serve as a proper business ally to your existing vending installation: try pairing it with a G-Caffè vending machine and let your customer indulge in a treat to combine with an authentic Italian espresso.
The Right Partner For Your Vending Machine Needs
Originally founded in California close to 100 years ago, SandenVendo has decades of experience in producing high-quality vending machines that are reliable, made with quality, and offer excellent service.
Besides being a vending machine that's also ideal for operators on a budget, the SandenVendo standard slave edition makes it possible for operators to offer a variety of options from one machine and the thermo-dynamics cooling systems ensure to ensure that you can offer cold drinks, freshly made foods and more!
To learn more about this SandenVendo outdoor vending machine, visit their website at https://www.sandenvendo.it, email o.gaege@sandenvendo.de.