Nitro Cold Brew Certified USDA Organic Coffee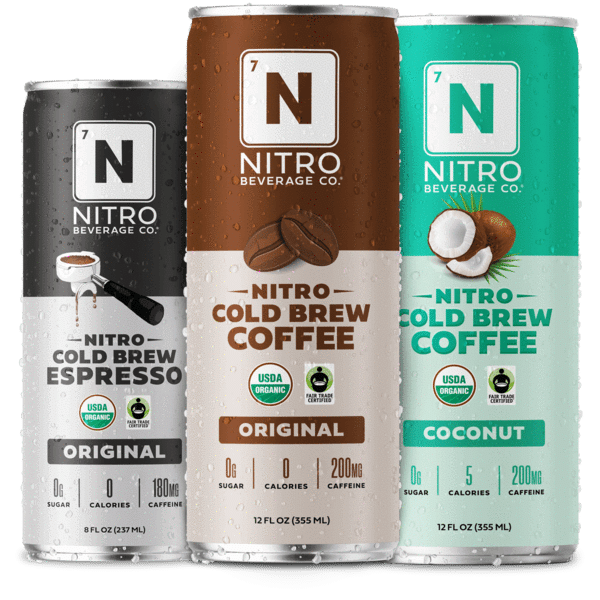 Thanks to statistics from the National Coffee Drinking Trends Report, we know that 10% of coffee drinkers were reported as stating that they enjoyed at least one cold brew coffee per day.  The rise in cold brew coffees nationwide makes sense, especially since coffee drinkers still want to continue enjoying coffee during the summer months, but some don't like to drink it hot. 
Thanks to Nitro Cold Brew Coffee, coffee drinkers can enjoy a delicious cold brew coffee that's made from high-quality organic ingredients, but what's most ideal is that the coffee is infused with nitrogen, creating millions of tiny bubbles that result in a delicious flavor and texture.
Ready To Drink Cans
With Nitro Cold Brew Coffee, coffee drinkers can enjoy a ready-to-drink can of coffee that's going to taste fresh and satisfying, unlike other canned coffees on the market that taste processed and are filled with sugar.
As a non-dairy, and non-sugar product, this canned coffee drink will surely appeal to most coffee drinkers, especially those consumers who want to enjoy their cup of coffee even while they are on the go.
An Uncompromised Commitment To Quality And Taste
Besides being a coffee company that makes their coffee using USDA Organic and Fair-Trade ingredients, NITRO Beverage Co-produced coffee that's guaranteed to be always fresh, and always cold. The coffee is brewed cold, stored cold, and shipped cold, guaranteeing that the coffee will consistently taste great whenever it's consumed. Asbury Park NJ, NITRO Beverage Co also is a 1% for the planet member. This means that they donate 1% of their sales each year to helping charitable organizations worldwide that commit to saving the planet.
To learn more about NITRO Cold Brew coffee, visit their website at www.drinknitro.com.