Need a New Side Hustle? Check Out These Money Making Machines

Make extra income with these Phone Battery Rental Kiosks!
Proven success rate with ROI within 6-12 months, with very little maintenance!!
These unique phone battery rental kiosks provide a rentable all-in-one portable battery, compatible with nearly all modern smartphones, that can be rented and returned at any of the Escargot Kiosks.

The kiosks are available in three different sizes: 8, 24, and 48 battery selection.
With these sleek and secure compact chargers, your customers can enjoy a seamless charging experience as they wait. Say goodbye to worries about running out of phone battery time and the risks associated with public charging stations.
Escargot is transforming the way people charge their smartphones. They understand that a fast-paced lifestyle is incompatible with being tethered to an outlet. Their goal is to provide peace of mind knowing customers can charge on-the-go with these versatile portable batteries.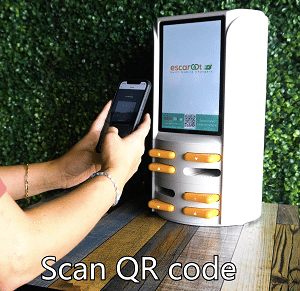 The company's business model is simple: provide the kiosks to partner locations and users pay a small fee for the duration of the battery rental. The phone battery rental and return process is quick and easy. With their expanding network of advanced portable battery charging kiosks, staying powered will never be a problem again.
The best part, our Operator Partners earn the bulk of the revenue!
What are the best locations for these kiosks?
Colleges/Universities
Hospitals
Hotels
Casinos
Coffee Shops
Bars/Pubs
Laundromats
To find out how you can be a part of this exciting new revenue opportunity call: 941-404-0151 or Email Escargot, Or fill out form below and we will be in contact shortly.