How to Start Up an Amusement Game Business! Coin Op Amusement Games Start-Up Ebook
The Coin-Op Amusement eBook©
ISBN#:09667065-5-2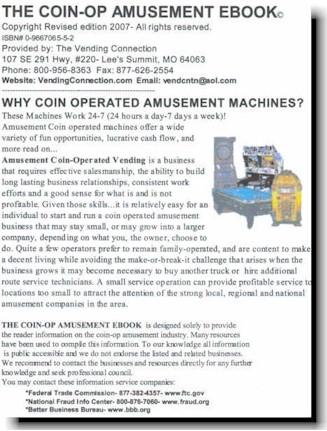 Are you ready to learn how to start your own FUN Coin-Op Amusement Game Business?
Take it from a business that knows the tips & bits of Coin Operated
Amusement Game industry knowledge, to do it right. NOW UPDATED…delivered into your email instantly!
What are Coin Operated Amusement Games? These machines are FUN amusement game machines we all like to play …like Video Games, Arcade Redemption Games for Arcade Gamerooms, Coin Operated Pool Tables, Air Hockey, Coin Operated Juke Boxes, Skee Ball, Sports entertainment Basket Ball, Golf, photo booths, all types of fun video games… and so much more!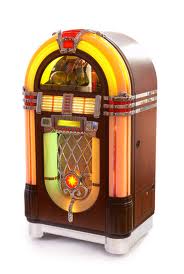 This "Coin-Op Amusement E-Book" includes information on these subjects: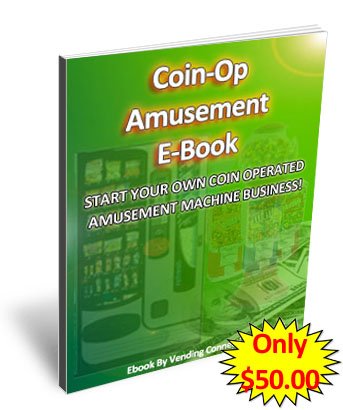 Arcade Gamerooms
Basket Ball Hoops
Batting Cages
Billiards (coin-op pool tables)
Juke Boxes
Photo Booths
Skee Ball
Sports Entertainment
Video Games
….and much more…Read on!
Limited time offer-
order now… delivered into your email to download instantly!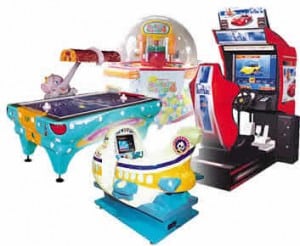 VendingConnection.com has years of experience and expertise packed in this Coin Operated Amusement Game E-book and is offered to save you time and money to get your business profiting as soon as possible. Don't accept others claims, this is right from the authority in coin operated vending.
Order your Amusement EBook today to learn more about How to be successful in the Coin-Op Amusement Game Industry!
---
The Coin-Op Amusement Start-Up EBook contains: Amusement Coin operated machines offer a wide variety of opportunities, lucrative cash flow, read on…
TYPES OF AMUSEMENT MACHINES Includes: Arcades, Batting Cages, Basketball, Billiards, Crane game machines, Darts (Electronic), Family Entertainment, Golf, Jukeboxes, Kiddie Rides, Photo Booths, Air Hockey, 8 Liners, Novelties, Pinball, Pushers, Tabletop Touch Screen, Slots, Shuffleboard, Skee ball, Video Games, Weight Scales, Sports amusement machines, Game rooms and more!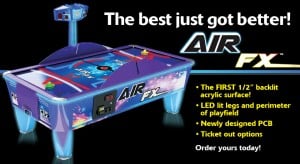 Also the Chapters include information on:
Advantages of Charity Sponsorship,
Paying Commissions to Locations,
Business Expenses, Products that you can Vend,
Buying Toy & Novelty Products,
Special Tips, Record Keeping,
Your Budget, Route Management Software,
Location Evaluation, Location Call Script,
Types of Locations and how to find them,
Servicing your amusement coin op machines,
Sample Amusement Equipment Service Contract,
Financing or Leasing your equipment,
Insurance, Quiz for Small Business Success,
My Personal Testimony on "How to be successful in Vending & Amusement Routes",
Amusement Dictionary and Coin-Op Amusement Suppliers Phone Guide included!
NOW UPDATED FOR 2017!  Only $50, order now…
delivered in your email instantly!
---
Looking for other types of Vending Start Up Ebooks?
Looking for Coin Operated Amusement Game Suppliers? see Suppliers Directory!
Call us at 1-800-956-8363 to POST YOUR COMPANY, or QUESTIONS?