Check Out The EnVision 4-Wide Snack Merchandiser!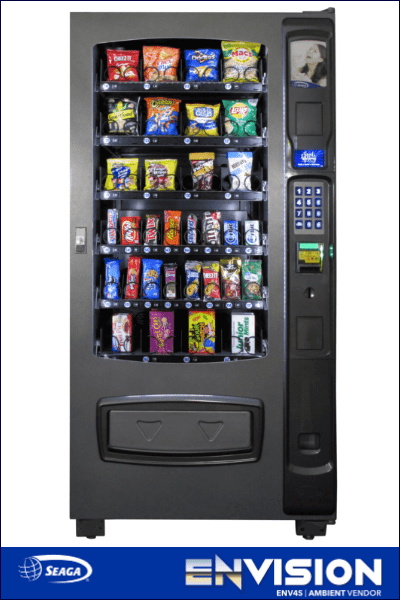 The EnVision 4-wide Snack Merchandiser offers an ideal balance of capacity and selection, in a sleek vending machine. This smaller footprint machine is only 72 inches high and 35 inches wide, and can fit most anywhere.
468 Snack Capacity
Made in Freeport, IL., by Seaga Manufacturing, the EnVision 4-wide snack vending merchandiser can hold a total of 468 snacks, which can include 288 candy and 180 chips!
Dimensions – 72 H x 35 W x 37 D
Weight – 465 pounds
Made With Anti-Theft Precaution
Besides being easy to place in almost any location, the EnVision ENV4S snack vending machine also includes a rounded locking coin box and anti-theft protection that will make it more difficult for thieves to steal from it.
Great for locations with limited space, this machine also is health and safety compliant and MDB / DEX capable as well.
The ENV4S also comes with the capacity to accept credit/debit and NFC mobile payments, it's Braille equipped with a telephone-type pad, and it has an easy-to-program interface as well.
Easy To Use And Maintain
Thanks to the ENV4S, operators can keep this machine stocked with their vending customers favorite products.
Contact Seaga, call 815-297-9500.